When you turn 60, the arithmetic of years becomes undeniable – you're in the second half of your life. But being 60 is also liberating. You're still young enough to do crazy, fun things, but old enough not to care what anybody thinks.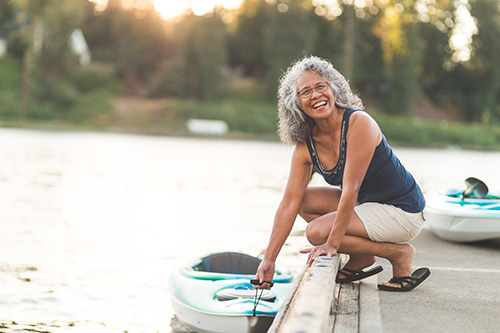 At this point in your life, you may be determined to make some changes — and why not? Lots of people our age want to try new things while they still feel good physically. Climb Mount Kilimanjaro. Get a tattoo. Learn to make sushi.
I get it, of course. That's how I felt when I turned 60. But now, a few years later, I see things differently. Here's what I've learned as a sexagenarian:
1. Throw away your bucket list.
While 60 is a great time to start really living, you don't need a list of mostly undoable items to check off one by one. This isn't a dress rehearsal after all — it's life. So yes, plan that special trip and definitely investigate bungee-jumping or skydiving or any other wild activity you crave. But don't worry about "doing it all" before you die, because if you live right (in the present) you will already have made the most of your life.
2. Be happy that "you can't take it with you."
Saving money for your golden years isn't a bad idea, but what are you going to do with what you have once you get there? It's hard to break the lifelong pattern of putting money away for retirement. But at age 60 and older, it's go time. Start spending it and if you've got enough money or resources to share, it's very satisfying to make a difference — even if it's just for one worthy person.
3. Help younger people succeed.
After decades of work and experience, we know all too well how to criticize, especially the new status quo. As a 60-year old, you can let go of the fight and focus on the affirmative. Encourage people, young and old, who need a cheerleader. Build the confidence of someone whose self-assurance is lagging. Show a child how to live life with purpose and compassion. Share your joy with everyone.
4. Return to your roots.
Did you have a passion earlier in life that you set aside when it was time to grow up and make a living? Whether it was writing, or painting or photography, or something else, it's probably worth a return visit. One thing that can be different this time around is your end goal: you don't need to have one. This trip is for you and it may be especially rewarding to go with the flow and see where it takes you.
5. Go deeper on your spiritual journey.
From my perspective, we are boundless, eternal, spiritual beings temporarily condensed into the form of human bodies for the experience of exploration and growth. Ancient traditions guide us to investigate our inner dimensions. Time spent in prayer, silence, meditation, reflection, journaling, or studying your choice of ancient scriptures can bring a sense of fullness and inner calm that will make you happier, more compassionate, and even more fun to be with.
At 60, you've spent about 22,000 days on the earth, but who's counting? You've certainly got more to offer others now than when you were 20. Take your knowledge, wisdom and know-how and liberally spread them around. I can promise you it will be more satisfying than ticking off boxes on any old bucket list.
Last Updated: January 7, 2022