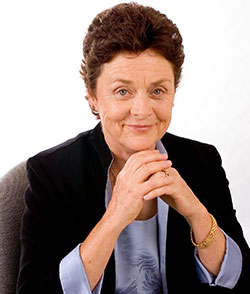 Susan E. Brown, PhD, CNS, is a medical anthropologist and certified clinical nutritionist specializing in osteoporosis, osteopenia, bone health regeneration, and auto-immune disease. Dr. Brown directs the Center for Better Bones and the Better Bones Foundation in East Syracuse, New York. She has more than 25 years of experience in clinical nutrition, bone health research, and consulting. Dr. Brown has authored numerous academic and lay articles and several books, including Better Bones, Better Body: Beyond Estrogen and Calcium and The Acid Alkaline Food Guide, along with the website www.alkalineforlife.com. She is a regular contributor to Women's Health Network. For more information on her work, publications, and nutrition consulting services please see her website at Better Bones.
Read Dr. Brown's Better Bones Blog here and sign-up for her weekly newsletter. To get to know Dr. Brown better, see her answers to the questions we ask all our contributors.
Get to know Dr. Brown
1. Book or movie that changed your life?
The book Born to Run by Christopher McDougall. This book describes the journey of a man who goes from being a hobby runner to true marathoner. He begins the story with a unique search in Mexico for the Tarahumara Indians, a tribe that spends their days running hundreds of miles. Along the way, he runs into a multitude of characters who have contributed to the sport of running in significant ways. This book inspired me to pursue running as a passion, rather than just a sport, it made the act of running a daily joy for me and gave me the opportunity to reconnect with myself.
2. Favorite healthy snacks?
1. Chia seeds — I mix them with almond butter or coconut water and eat it as a snack to keep my energy up during long runs and extended shifts in the hospital.
2. Green smoothies — I blend up a mixture of Greek yogurt, frozen fruit, kale, spinach and coconut water.
3. What do you do for exercise?
Running and yoga.
4. Guilty pleasure?
Lobster with garlic butter and a side of crusty bread. This is hard to find in the south, but I certainly make sure to get my fill when I come home to Maine for a visit.
5. Favorite hobby and things to do when you have time off?
Photography.
6. If you could go anywhere in the world, where would it be?
Alaska — I've always been fascinated by its unique landscape and many natural wonders. I can't wait to see it one day soon!
7. What's most exciting to you about working with the Women's Health Network?
I am grateful for the chance to provide women with the tools they need to pursue optimal health so they feel empowered them to live their lives to the fullest.
8. How did you become interested in women's health?
I think women are the foundation of a strong society because they are the primary caregivers for everyone else. If women are unable to take care of themselves, then they can't care for others. When we provide women with the tools to pursue health, the world itself is enriched. To be able to be a part of that is a pretty unique opportunity, and I intend to take it.