Cycles are part of the fabric of life. When one ends, a new one begins. As you approach the end of your menstrual cycles, the transition can feel rocky, and, well — hot! But what comes next may be your best, most creative years yet. That's one reason it's sometimes called the "wise woman's cycle," or, as it is sometimes called less poetically, the crone phase.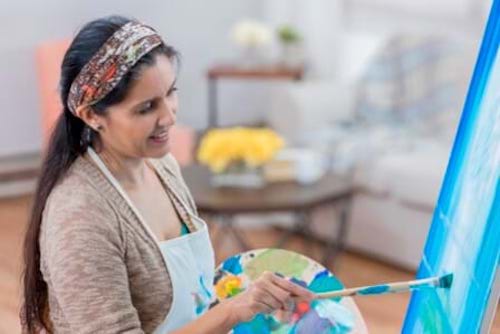 I know that crones have been given a bad name, but in ancient times older women, or crones, were the tribal matriarchs. They were considered to be enlightened, so people came to them for advice. A woman in menopause was regarded as having an incredible accumulation of knowledge, experience and valued intuition.
While times have changed and today's society places too much value on youth, it's important that we women value ourselves and our accumulated wisdom and resurrect this special designation so we can share our creative gifts. Despite the hot flashes and other symptoms of perimenopause and menopause, what you are entering can be a time of great independence, achievement, self-expression and intense creativity.
Consider how you might tap into the benefits of your own wise woman phase. Practically speaking, if you have children, they may be older and not need you quite as much. Maybe your career and relationships are more settled now.
Suddenly, you discover the time and space to finally focus on dreamier goals and even unexpressed desires. From the time you began menstruating until you stop, part of your biology has been devoted to the possibility of nurturing another life. Now that this biology is changing, that same life force can be turned inward to nurture yourself.
Some holistic practitioners believe that a power surge in the chakras (the 7 centers of spiritual power in the human body) takes place during menopause. The energy that once pooled towards the base of the spine near the uterus is thought to be freed to rise up to find a new outlet.
As this energy flows, it awakens your other chakras, producing feelings of increased intuition, insightfulness, and a new zest for discovering who you were finally meant to be.
Here are 7 ways to get your creative juices flowing:
1. Go for a walk and attempt to stay present in each moment.Observe the sounds, sights, and smells around you. Where does your mind go? Could you write a description of your surroundings, capture it with paint, sing a song about it, or take a photograph? Follow this instinct to see where it might lead.
2. Go back to your roots. Before the kids or the career (or both!), what did you like to do? Did you love the Drawing 101 class you took in college? Is there an unfinished novel sitting in the bottom drawer of your desk? Did you once fantasize about writing poetry or making jewelry? Take your former passions out for a new test drive.
3. Attend a paint-and-sip art class. Nurture your artistic side and have a relaxing glass of wine to boot. Paint and sip parties, where an art instructor leads participants in painting a still life or other scene, are a fun and social way to get creative. Check out your local art center for upcoming sessions, and bring a friend.
4. Learn how to knit. Not only is knitting creative, but there are now studies proving that the rhythmic act of knitting offers benefits similar to meditation.
5. Visit your local library. Many libraries serve as hubs for adult learning classes in the area, offering everything from jewelry making to adult dance lessons. Check out some books, then stay for a class that opens up your creative side.
6. Become a creative cook. Experiment with new recipes and try a cuisine you've never cooked before. Visit a farmers' market and buy some interesting ingredients to use as the basis for an adventurous meal.
7. Exercise. One of the key blockers of creativity is stress, so do what you can to remove this barrier to self-expression. Start going for a brisk daily walk, or take that next step and sign up for a yoga or Pilates class. You may discover that physical movement is a form of self-expression all its own.
Most of all, unleashing your creativity is about honestly taking stock of pursuits that bring you joy, and then making time for these activities. Self-expression is a powerful force, and your Wise Woman is very creative.
Make space for her, and give her room to tap dance, stitch a quilt, or finally write a memoir. You are being given a fresh spark to light your way through this cycle of transition. Let it be the flash of inspiration you need to feel renewed joy and wonder at all life has to offer.
References
https://sandiegotherapists.com/threestages.html
https://susunweed.com/herbal_ezine/April11/body-soul.htm
Last Updated: November 14, 2022