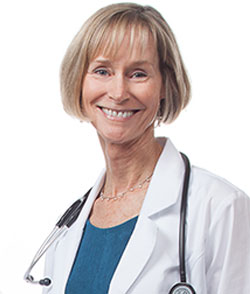 Mary James, ND is a naturopathic physician who authors and reviews women's health articles for Women's Health Network. She has advanced training in menopause, nutritional endocrinology, anti-aging, and hormonal imbalances. Dr. James is a member of the American Association of Naturopathic Physicians and is licensed through the Connecticut Naturopathic Board. She is a published researcher who has contributed to the Textbook of Functional Medicine, as well as the Textbook of Natural Medicine.
Dr. James is the medical editor for Naturopathic Doctor News and Review. She is also a health education specialist who authors and edits test commentary, therapeutic guides, and medical education literature for Genova Diagnostics. In the recent past, she worked as a research fellow for the Optimal Health & Prevention Research Foundation, reviewing scientific literature and writing summaries and articles on a variety of health topics.
Dr. James follows a functional and preventive medicine approach with special concentrations on health issues that arise during perimenopause and post-menopause. She has a lifelong commitment to exploring the impact of stress on women's health, as well as other topics related to chronic illnesses, especially autoimmunity.
To get to know Dr. James better, see her answers to the questions we ask all our contributors.
Get to know Dr. James
1. Book or movie that changed your life?
The book, Love and Awakening, by John Welwood, is still a gentle reminder after all these years to not clench my psyche "into a fist" in response to old emotional pain. For, by saying no to pain, we wind up saying no to ourselves instead. Welwood reminds us that the first step in freeing ourselves from old setups is to open to our experience, just as it is. A lifelong process!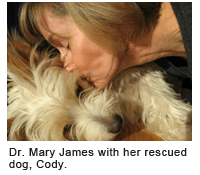 2. Favorite healthy snack?
Nuts – all sorts! I love a good crunch.
3. What do you do for exercise?
Pilates. Also lots of hilly dog-walking with my dog.
4. Guilty pleasure?
Dark chocolate!
5. Favorite hobbies and things to do when you have time off?
Dancing (especially west coast swing), stimulating conversation, movies, hiking, reading, hanging out at the dog park!
6. If you could go anywhere in the world, where would it be?
Right now, it's a toss-up between Costa Rica (for the monkeys and birds) and Ireland (for the green rolling hills and music).
7. What's most exciting to you about working with Women's Health Network?
I love getting to focus more on women's health. I also feel honored to be a part of furthering women's understanding of some important topics that have either received too little attention over the years, or which are surrounded by mixed messages. It's no wonder that women are often confused!
8. How did you become interested in women's health?
First and foremost, by being a woman! I have also always been fascinated by the body's complexity and interaction between systems, most notably in the endocrine system, which plays a huge part in women's health.