Women struggling with insulin resistance and prediabetes are nearly always told that regular exercise and a healthy diet — and, of course, weight loss — are the solution. Which is absolutely true!
But this isn't news to most of us anymore, and it can be frustrating when you're working hard to make these important lifestyle changes but are then told to do something you're already doing (especially if you're not yet seeing any results from your efforts).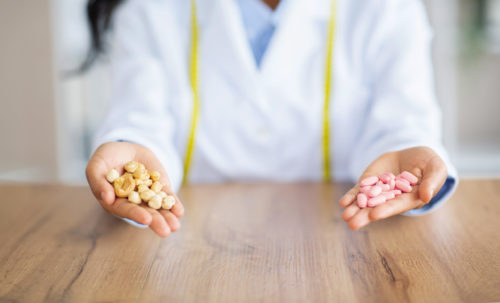 What you may not know is that there are herbals, vitamins and minerals that research shows can help stabilize glucose metabolism and which may give you the extra edge you need, alongside those lifestyle changes.
Best herbs for improving blood glucose
1. Bitter Melon (Momordica charantia) is a traditional medicine for diabetes and high blood sugar. Studies suggest that it can enhance insulin sensitivity as well as help regenerate the insulin-producing beta-cells of the pancreas — key benefits when a person is both insulin resistant and experiencing a decrease in pancreatic function as a result of excessive insulin output. While it's not something readily available in most parts of the U.S., it can be found in supplement form.
2. Cinnamon has the power to curb the rise in blood sugar after you eat and to lower blood sugar levels that are already too high. It does this by helping your cells more efficiently take in glucose and by increasing insulin sensitivity. Cinnamon has the added benefits of being anti-inflammatory and antioxidant. Unfortunately, when most of us ingest cinnamon, it tends to be paired with sugar — which is self-defeating when it comes to glucose control! A better way to get cinnamon's health effects is to infuse it as a tea or take it in capsule form.
3. Fenugreek (Trigonella foenum greacum) is another traditional Asian diabetes remedy that helps reduce blood glucose levels by improving insulin sensitivity and supporting the insulin-producing cells in the pancreas. Unlike bitter melon, fenugreek seeds are widely available in the spice section of most grocery stores. According to one small study, a daily infusion of 10 g of fenugreek seeds soaked in hot water had no immediate effect. But cumulatively, by the fifth month of the study, it had produced a significant lowering of blood glucose levels. Randomized, clinical trials have verified fenugreek's beneficial effects on blood glucose as well.
Best vitamins for improving blood glucose
1. Vitamin D: For women concerned about insulin resistance, getting enough Vitamin D is a must. Vitamin D concentrations are directly correlated with insulin sensitivity and pancreatic function. Unfortunately, drinking fortified milk or orange juice isn't going to do the job. Consider supplementing with 2-4000 IU daily (and periodically checking levels through your doctor), particularly if you live in the northern half of the U.S., are indoors most of the time or always use sunscreen outdoors.
2. Vitamin K: It's well known that Vitamin K is essential for blood clotting, and its role in bone health is increasingly recognized. But it also plays an important, if little-known, role in maintaining insulin sensitivity. While one of its key forms (K1) is available in leafy greens, the other (K2) is most often found in fermented foods, which aren't part of the usual American diet. It is the vitamin K2 form that supports insulin sensitivity and pancreatic beta-cell function. If you're not a fan of kimchee or sauerkraut, you may consider taking a supplement that provides mg (not mcg) amounts of vitamin K2.
3. B vitamins: While all B vitamins participate in a wide range of body functions, three in particular — thiamine (B1), biotin (B7) and cobalamin (B12) — are essential for healthy glucose metabolism. Vitamin B1 has a vital role in glucose metabolism within the cells, and it also helps prevent complications from high blood glucose levels. Deficiencies in B vitamins, in particular Vitamin B7, can impair the ability of the body to produce and respond to insulin. And, insulin resistance has been linked to decreased B12 levels, which in turn can contribute to some of the fatigue and cardiovascular complications of poor blood glucose control. Since all of the B vitamins should ideally be taken together, find a high-quality B-complex supplement that also contains healthy amounts of these three B vitamins.
Best minerals for improving blood glucose
1. Chromium's role in glucose and lipid metabolism has been known for a long time, and many studies have looked at its ability to help stabilize blood sugar levels and increase insulin sensitivity. But results from those studies have been mixed, and it's not clear what dosage of chromium is ideal for producing benefits — one study found that a dose of just 42 micrograms was effective in lowering blood glucose, while other studies have focused on doses of 200-250 micrograms. Long-term benefits are also not yet clear enough. More research will help!
2. Magnesium plays an important role in glucose and insulin regulation. There's a well-documented correlation between low magnesium levels in the body and impaired glucose tolerance, such as occurs in metabolic syndrome and diabetes. Supplementing with magnesium was found in one research study to delay progression from insulin resistance to type 2 diabetes and to reduce overall fasting glucose and insulin levels, both of which are critical risk indicators in prediabetes.
3. Zinc plays a key role in insulin's actions and the body's ability to metabolize carbohydrates. It also supports insulin sensitivity. It's thus not surprising that women with diabetes have been found to have lower levels of zinc. Although research studies are mixed in terms of supplemental zinc's effects on insulin levels, most studies appear to agree that zinc supplementation helps lower blood glucose and HbA1C. Think of zinc as "the little engine that could," gently pushing your blood sugar toward stability. Since long-term zinc supplementation can alter levels of minerals such as copper, the safest way to take zinc is along with a multi-mineral supplement.
Small changes can have big effects
We know that managing your blood glucose can be tough, especially when prediabetes has been developing for a while! Changing your diet and exercise habits, while powerful, doesn't usually happen overnight. If you're doing your best and still struggle with insulin resistance or high blood sugar levels, just remember: there are some very small adjustments, in the form of adding herbs, vitamins and minerals, that may make a big difference for you.
References
B vitamins
Valdés-Ramos R, Guadarrama-López AL, Martínez-Carrillo BE, Benítez-Arciniega AD. Vitamins and type 2 diabetes mellitus. Endocr Metab Immune Disord Drug Targets. 2015;15(1):54-63.
Lazo de la Vega-Monroy ML, Larrieta E, German MS, Baez-Saldana A, Fernandez-Mejia C. Effects of biotin supplementation in the diet on insulin secretion, islet gene expression, glucose homeostasis and beta-cell proportion. J Nutr Biochem. 2013 Jan;24(1):169-77. doi: 10.1016/j.jnutbio.2012.03.020. Epub 2012 Jul 25.
Ho M, Halim JH, Gow ML, El-Haddad N, Marzulli T, Baur LA, Cowell CT, Garnett SP6.Vitamin B12 in obese adolescents with clinical features of insulin resistance. Nutrients. 2014 Dec 4;6(12):5611-8. doi: 10.3390/nu6125611.
Vitamin D
Chiu KC, Chu A, Go VL, Saad MF. Hypovitaminosis D is associated with insulin resistance and beta cell dysfunction. Am J Clin Nutr. 2004 May;79(5):820-5.Rafiq S, Jeppesen PB2. Is Hypovitaminosis D Related to Incidence of Type 2 Diabetes and High Fasting Glucose Level in Healthy Subjects: A Systematic Review and Meta-Analysis of Observational Studies. Nutrients. 2018 Jan 10;10(1). pii: E59. doi: 10.3390/nu10010059.
Kimball SM, Emery JCH, Lewanczuk RZ. Effect of a vitamin and mineral supplementation on glycemic status: Results from a community-based program. J Clin Transl Endocrinol. 2017 Nov 7;10:28-35. doi: 10.1016/j.jcte.2017.11.002. eCollection 2017 Dec.
Heaney RP, Davies KM, Chen TC, et al. Human serum 25-hydroxycholecalciferol response to extended oral dosing with cholecalciferol. Am J Clin Nutr. 2003 Jan;77(1):204-10.
Vitamin K
Li Y, Chen JP, Duan L, Li S. Effect of vitamin K2 on type 2 diabetes mellitus: A review. Diabetes Res Clin Pract. 2018 Feb;136:39-51.
Chromium
Sharma S, Agrawal RP, Choudhary M, Jain S, Goyal S, Agarwal V. Beneficial effect of chromium supplementation on glucose, HbA1C and lipid variables in individuals with newly onset type-2 diabetes. J Trace Elem Med Biol. 2011 Jul;25(3):149-53. doi: 10.1016/j.jtemb.2011.03.003. Epub 2011 May 12.
Suksomboon N, Poolsup N, Yuwanakorn A. Systematic review and meta-analysis of the efficacy and safety of chromium supplementation in diabetes. J Clin Pharm Ther. 2014 Jun;39(3):292-306. doi: 10.1111/jcpt.12147. Epub 2014 Mar 17.
Zinc
Capdor J, Foster M, Petocz P, Samman S. Zinc and glycemic control: a meta-analysis of randomised placebo controlled supplementation trials in humans. J Trace Elem Med Biol. 2013 Apr;27(2):137-42. doi: 10.1016/j.jtemb.2012.08.001. Epub 2012 Nov 6.
Magnesium
Mooren FC. Magnesium and disturbances in carbohydrate metabolism. Diabetes Obes Metab. 2015 Sep;17(9):813-23. doi: 10.1111/dom.12492. Epub 2015 Jun 23.
Cinnamon
Bernardo MA, Silva ML, Santos E, Moncada MM, Brito J, Proença L, Singh J, de Mesquita MF. Effect of Cinnamon Tea on Postprandial Glucose Concentration. J Diabetes Res. 2015;2015:913651. doi: 10.1155/2015/913651. Epub 2015 Jul 14.
Bitter Melon
Efird JT, Choi YM, Davies SW, Mehra S, Anderson EJ, Katunga LA6. Potential for improved glycemic control with dietary Momordica charantia in patients with insulin resistance and pre-diabetes. Int J Environ Res Public Health. 2014 Feb 21;11(2):2328-45. doi: 10.3390/ijerph110202328.
Fenugreek
Patel DK, Prasad SK, Kumar R, Hemalatha S. An overview on antidiabetic medicinal plants having insulin mimetic property. Asian Pac J Trop Biomed. 2012 Apr;2(4):320-30. doi: 10.1016/S2221-1691(12)60032-X.
Ranade M1, Mudgalkar N2. A simple dietary addition of fenugreek seed leads to the reduction in blood glucose levels: A parallel group, randomized single-blind trial. Ayu. 2017 Jan-Jun;38(1-2):24-27. doi: 10.4103/ayu.AYU_209_15.
Last Updated: November 6, 2023