With all the negativity out there, I am determined to get a good start every day by looking in the mirror and giving myself a positive affirmation.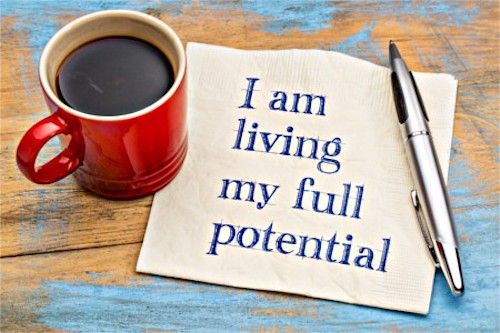 Positive affirmations are short, simple, upbeat statements that bring power, energy and awareness. They replace the negative thoughts of the internal critic that nags most of us. And affirmations have been proven over and over again, from psychology to the Olympics, to help us create the life we want.
Here's how you can get started with positive affirmations today. All it takes is 90 seconds.
Shifting your thoughts to change your life
If you're new to affirmations, the idea of talking to yourself in front of a mirror might feel a little awkward. But once you practice a little, affirming becomes much more natural. So be patient with yourself as you try something new.
Get yourself in front of the mirror. Start by making an "I am" statement to celebrate who you are right now and who you want to become in the future. Make your affirmations in the present tense as if they are already true. This is a powerful way to redirect negative thought patterns and draw what you are seeking into your life.
These are some of my favorite affirmations:
I am healthy, whole and complete.
I am completely accepting of who I am.
I am grateful for my family and home.
I am strong and capable.
I am happy and greet today with a smile.
I am kind and will act so today.
I am on my own journey of wellness and healing.
I am ever expanding and grateful for the growth I experience today.
I am strong enough to make the changes I want to make.
In the morning, making affirmations creates intention for what you hope or want to happen throughout the day. At night, affirmations help you reflect on your experiences during the day that make you grateful — as well as those you can learn from.
7 tips for sending yourself positive thoughts
Try sending yourself affirmations for 90 seconds. Dividing the time into smaller segments works too.
Start slowly. Focus on what you have, what you did or the people who care about you.
Counteract any negative self talk by declaring a positive quality about yourself, your life or your actions.
Try to really listen to your words. Let them sink in to help you feel stronger.
Repeat the same affirmation as often as it's meaningful. You don't have to think of something new every day.
Make your affirmations easy to say so that they feel more natural.
Remind yourself of the power of affirmations by keeping your favorite phrases on your nightstand, mirror or refrigerator.
An extra affirmation if you're a beginner
Again, I understand that saying affirmations can feel strange when you start. But keep saying them – because everything begins with a thought. That thought is then transformed into an intention. Then into an action!
You might even want to direct positive energy to those negative, uncomfortable thoughts about affirmations by saying "I am committed to reach for good feelings and thoughts when I'm challenged with negativity or doubt."
What are three affirmations you could start using today?
Last Updated: January 10, 2022