If your muscles or back have been sore and aching lately, we've got an easy recipe for creating your own soothing pain relief rub with ingredients from your kitchen.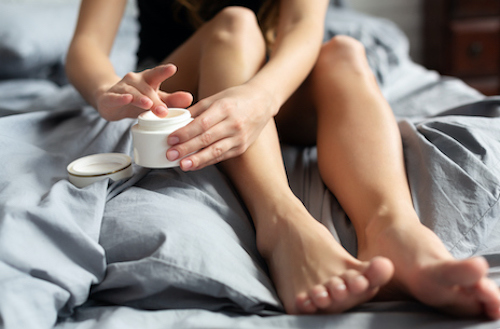 So many common herbs have incredible power for relieving pain:
Cayenne — naturally works to reduce inflammation and relax muscles. It contains the compound capsaicin, which provides soothing heat and helps to temporarily block pain signals sent to the brain.
Ginger root — research supports topical application for arthritis pain relief. In a 2015 study, participants applied ginger extract to their painful knees three times per day for 12 weeks. During this time, they experienced reduced levels of pain and swelling.
Turmeric powder — its active compound curcumin has potent anti-inflammatory properties that can help with relief from chronic pain.
Peppermint essential oil — contains menthol, which has a cooling effect on sore, achy muscles. It also adds a pleasant scent that smells way better than overly pungent drugstore brands!
Plus, our recipe uses coconut oil which is a great carrier oil for rubs and salves, and deeply nourishing for the skin.
DIY Muscle Rub
Ingredients:
1 cup coconut oil
2 tsp cayenne powder
2 tsp ginger
1 tsp turmeric powder (Note: turmeric is an excellent anti-inflammatory, but it may cause some temporary skin discoloration.)
15 drops peppermint essential oil
Glass jar
Directions:
In a small saucepan, heat 2 inches of water over medium low heat. Add coconut oil to glass jar and carefully place the jar in the saucepan. Continue to heat until oil is melted (about 5 minutes). Remove jar from heat using tongs or an oven mitt. Add the cayenne, ginger and turmeric. Stir until combined. Allow to cool slightly, add in essential oil and mix well. Cover and store in a cool spot to prevent the coconut oil from melting.
To use:
Do a skin patch test first to check for any skin irritation by applying a small amount on your inner forearm. For regular use, scoop a small dollop and apply to painful area, using your fingertips to gently knead and massage the muscle rub into the skin. Reapply once or twice per day as needed. Wash hands after applying and do not touch or apply near your eyes, nose or mouth as capsaicin can cause a stinging sensation.
Last Updated: January 6, 2022