Turmeric has become wildly popular. That's because so many studies prove it's a powerful anti-inflammatory with lots of health benefits. The active ingredient in turmeric is curcumin, which gives turmeric its intense yellow color. It's a traditional ingredient in Indian cuisine, but there are lots of ways to add it to your diet.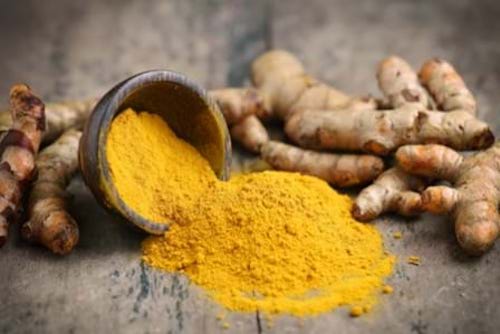 Here are five easy, healthy and delicious tips and recipes to get you started.
1. Spice up scrambled eggs or your favorite breakfast frittata
Whisk in a teaspoon of turmeric as you scramble eggs to give your breakfast a hint of mellow spicy flavor. Pro tip: Sprinkle a pinch of black pepper over those scrambled eggs before eating because it can boost the amount of curcumin your body absorbs.
Easy Frittata
Ingredients
4 large eggs
1 oz. grated Parmesan or Pecorino-Romano cheese
1/2 cup chopped fresh dill, parsley, or basil (or 1 tsp dried)
1/2 tsp black pepper
1 tsp powdered turmeric
2 tsp olive or coconut oil
1/2 cup thinly sliced vegetable of your choice: broccoli, zucchini, mushrooms, etc.
1 cubed small white potato or sweet potato
Directions
Whisk together eggs, cheese, herbs and black pepper in a small bowl. Set aside. Heat 1 tsp oil in a medium-sized oven-safe skillet over medium-low heat. Sauté potato cubes for 3-4 minutes. Remove from pan, then add remaining oil and turmeric. Sauté vegetables 3-4 minutes until softened. Return potatoes to pan, pour in egg mixture, and cook gently for 5 minutes. Place pan in oven and broil 3-5 minutes until slightly browned. Serve immediately. Makes 2-3 servings.
2. Turn turmeric into a tasty golden milk beverage
Warm, soothing, and just sweet enough, frothy golden milk tastes more like a treat than a health tonic. Also called "turmeric tea," this simple drink delivers all the goodness of turmeric with a lightly spiced flavor reminiscent of chai. If you're trying to cut down — or kick — your coffee habit, meet your new morning eye-opener.
Easy Golden Milk
Ingredients
2 cups unsweetened almond milk
1 tsp coconut oil
1 tsp turmeric
1/4 tsp of ground ginger
1/4 teaspoon ground cinnamon
1 tsp raw honey or maple syrup (optional)
Pinch of black pepper
Directions
Cook all ingredients in a small sauce pan over medium heat for 3-5 minutes. Whisk frequently to combine ingredients and make mixture frothy. Heat until very hot, but not boiling. Makes 2 servings.
3. Bring out the flavor in roasted vegetables
To add spicy undertones to roasted cauliflower and root vegetables, make a turmeric and black pepper-infused oil and toss the chopped vegetables in it just before roasting. Olive or coconut oil is perfect for bringing out a rich nutty flavor in vegetables, and like pepper, a little fat helps your body absorb the curcumin.
Try it yourself with this Indian-inspired recipe.
Roasted Cauliflower with Turmeric and Ginger
Ingredients
3 tbsp olive oil or melted coconut oil
1 tsp cumin
1 tsp ground ginger
1 tsp turmeric
1/2 tsp black pepper
1 head cauliflower, cut into florets
Sea salt to taste
Directions
Preheat oven to 425 degrees F. In a small bowl, whisk together oil, turmeric, ginger, cumin, and pepper. Place cauliflower florets in a medium baking dish. Drizzle with flavored oil and lightly toss. Roast until lightly golden brown and just tender, about 20 to 25 minutes. Season with a pinch of salt. Serve hot; makes 2-3 servings.
4. Swirl it in savory soups
A bowl of vegetable or chicken soup becomes even more nutrient-rich when golden turmeric is added and this recipe is a winner. Turmeric is rich in beta-carotene and it also helps carrots and squash — two common soup ingredients — better retain their beta-carotene content when cooked.
Curried Squash Soup
Ingredients
1 tbsp. clarified butter (ghee)
1 large onion, coarsely chopped
2-3 cloves garlic, pressed
2 tsp ground coriander
½ tsp ground cumin
1 tsp ground turmeric
1/4 tsp ground pepper
6-8 cups peeled, diced butternut squash (about 3 pounds)
3 cups water or vegetable stock
½ tsp sea salt or 1 tsp miso dissolved in ¼ cup warm water
1 cup unsweetened almond milk
½ cup light cream
¼ cup chopped fresh cilantro as garnish
Directions
In 4 ½-quart saucepan, heat butter over medium heat. Add onion and sauté for 5 minutes, or until translucent. Add garlic, coriander, cumin and turmeric and stir fry for 1 minute. Add squash, water, pepper, and salt to the saucepan, cover partially and cook, stirring occasionally, for 10 minutes, or until the squash is fork tender. Reduce heat to low. Pour soup into a blender, process it until smooth, and return it to saucepan, or use hand blender directly in the saucepan. Add milk and light cream to the soup and stir until well blended. Reheat, top with a sprinkle of cilantro and serve. Makes 8 servings.
Adapted from the Amazing Acid Alkaline Cookbook by Bonnie Ross
5. Elevate sautéed greens
What could be simpler — or healthier? The next time you sauté greens for a quick lunch or dinner side dish, add some turmeric and pepper to the mix.
Sautéed Spinach with Garlic and Turmeric
Ingredients
2 cups of baby spinach or other baby greens
1 tbsp. ghee or coconut oil
1 garlic clove, minced
1 tsp lemon juice
1 tsp turmeric
1/4 tsp pepper
Sea salt to taste
Directions
Sauté garlic in ghee or oil in a deep skillet over medium heat until it becomes fragrant (about 1 minute). Add turmeric, pepper and lemon juice. Stir to distribute, then add spinach. Stir greens until evenly sautéed. Remove from pan when completely wilted (about 4 minutes). Season with salt and additional lemon juice as desired. Makes 2 servings
Last Updated: January 7, 2022