It's a powerful holistic elixir that costs next to nothing and couldn't be easier to prepare. We're talking about warm water, a minimalist health beverage that helps with everything from digestion to detox, and much more.  Starting your day with a cup warm water (on an empty stomach) is believed to optimize its benefits. Here's what can happen when you pour yourself a cup.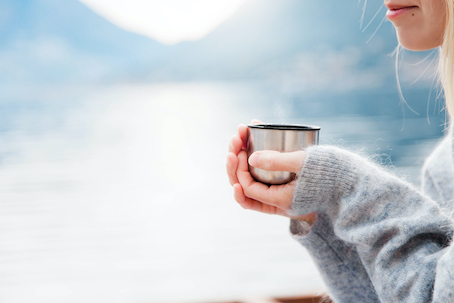 The surprising benefits of drinking warm water
It helps you hydrate. You lose fluids overnight so drinking a cup of warm water upon waking helps you immediately start replenishing fluids. Being hydrated boosts your energy, no caffeine required! You may be thinking, but isn't coffee basically warm water mixed with ground and filtered coffee beans? Yes, that's true, but caffeine in coffee is a diuretic, so when you start your day with a cup of coffee , you are contributing to more fluids being zapped from your system.
It fires up your metabolism. Drinking warm water upon rising helps to "wake up" your body's metabolism, activating your body's fuel and fat burning capacities.
It relieves nasal congestion. Breathing in the steamy vapor from your cup of warm water can help loosen clogged sinuses and chest congestion and can even help to relieve a sinus headache.
It can improve digestion. Drinking warm water can help your body begin to break down certain foods as the digestive process begins.  Warm water also helps your intestines contract, clearing out waste products that have built up overnight and easing constipation issues.
It helps you detox. Drinking warm water raises your internal body temperature, helping you to sweat, which is one of your body's prime way to push out toxins. Drink your water on the warm/hot side (about 140 F) to help stimulate sweating.
It boosts your immune system. Our favorite way to drink warm water is with an added slice of lemon. Not only does it offer an eye-opening pop of flavor, but it also adds vitamin C for an extra immune system boost. If you have a sore throat, add a teaspoon of honey for added soothing power.
Last Updated: December 29, 2021