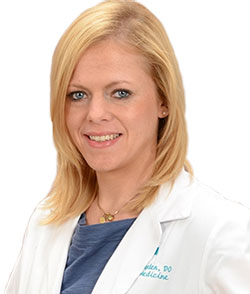 Amber Hayden, DO is a resident physician in North Carolina, where she practices full-spectrum family medicine. Her typical work day may include getting up early to deliver a baby, followed by an appointment to counsel an elderly woman on treatment for her hypertension, and perhaps ending with a well-child check at the local community clinic. Dr. Hayden's choice of family medicine gives her the opportunity to play an integral role in providing healthcare and guidance for the family as a whole. She likes getting to know her patients and their families, and relishes the chance to grow personally and professionally along with them.
As an osteopathic physician, Dr. Hayden is trained to see the body as a whole rather than as a set of unconnected systems. Her medical training includes osteopathic manipulative medicine, a well-established type of hands-on medical care used to diagnose illness and injury, and to encourage natural healing and overall wellness.
Dr. Hayden graduated from the University of New England College of Osteopathic Medicine in Biddeford, Maine. She received the Humanism in Aging Action Award for excellence in writing about the aging process, and was a Graduate of Distinction in Osteopathy, as well as an Honors Society Member.
Osteopathic physicians, like MDs, complete four years of medical education, followed by internships, residencies, and fellowships. And just like MDs, they are licensed by the states in which they practice, and practice in accredited and licensed healthcare facilities and hospitals.
To get to know Dr. Hayden better, see her answers to the questions we ask all our contributors.
Get to know Dr. Hayden
1. Book or movie that changed your life?
The book Born to Run by Christopher McDougall. This book describes the journey of a man who goes from being a hobby runner to true marathoner. He begins the story with a unique search in Mexico for the Tarahumara Indians, a tribe that spends their days running hundreds of miles. Along the way, he runs into a multitude of characters who have contributed to the sport of running in significant ways. This book inspired me to pursue running as a passion, rather than just a sport, it made the act of running a daily joy for me and gave me the opportunity to reconnect with myself.
2. Favorite healthy snacks?
1. Chia seeds — I mix them with almond butter or coconut water and eat it as a snack to keep my energy up during long runs and extended shifts in the hospital.
2. Green smoothies — I blend up a mixture of Greek yogurt, frozen fruit, kale, spinach and coconut water.
3. What do you do for exercise?
Running and yoga.
4. Guilty pleasure?
Lobster with garlic butter and a side of crusty bread. This is hard to find in the south, but I certainly make sure to get my fill when I come home to Maine for a visit.
5. Favorite hobby and things to do when you have time off?
Photography.
6. If you could go anywhere in the world, where would it be?
Alaska — I've always been fascinated by its unique landscape and many natural wonders. I can't wait to see it one day soon!
7. What's most exciting to you about working with the Women's Health Network?
I am grateful for the chance to provide women with the tools they need to pursue optimal health so they feel empowered to live their lives to the fullest.
8. How did you become interested in women's health?
I think women are the foundation of a strong society because they are the primary caregivers for everyone else. If women are unable to take care of themselves, then they can't care for others. When we provide women with the tools to pursue health, the world itself is enriched. To be able to be a part of that is a pretty unique opportunity, and I intend to take it.