The Omicron variant is creating another round of headlines and government actions to slow its expected spread.
We already know it's much more infectious than Delta. It seems to be milder, however.
So — does Omicron really change anything? More to the point: should Omicron change your behavior or your mindset about Covid?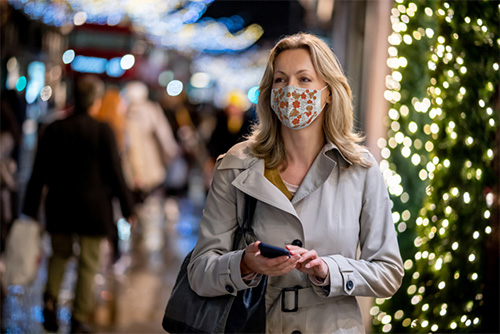 The answers may surprise you — and also help you make the best choices for yourself, your family and loved ones.
Does Omicron really change anything?
The short answer is – no and yes. (Do you find that answer frustrating? Welcome to Covid!)
On the no side…
Media coverage of the Omicron variant feels more like a weather forecast trying to predict the severity of an impending winter storm. However, as Dr. James Hamblin, Yale School of Public Health lecturer explained in a recent op-ed, those waiting to find out "just how dangerous" this new mutated virus is, are missing the point.
"Covid is a leading cause of death in the United States. Every day, more than 1,000 Americans are dying of it, as are countless thousands more globally. We do not need to wait to learn more about Omicron to know that an extremely transmissible, deadly respiratory virus is spreading widely around the world."
With renewed mandates from our government leaders appearing to be political suicide these days, protection from Covid must come from decisions we make ourselves at an individual level. Omicron changes none of the steps each person can take to protect themselves and others around them.
Wearing a mask in crowded spaces
Wash your hands frequently
Ask friends and family to do a rapid test before any gathering
Hold gatherings outdoors whenever possible
Gather indoors in well-ventilated areas
Maintain social distancing
Get vaccinated
Get your booster
Continue with immune support supplements
Those at higher risk for severe Covid should limit their activities to safe zones
Consider the Swiss Cheese effect– the best protection is several layers of protection. It takes multiple layers to fill the holes.
Should Omicron change your behavior or mindset?
On the "yes" side, consider these undeniable facts.
The measures you took before to protect yourself, your family and your loved ones won't protect you as well against Omicron.
Omicron does not change the recommendations for protection against Covid, however it does bolster the argument for full immunization with booster.
Omicron highlights the consequences of waning immunity among the vaccinated and previously infected individuals. The vaccine becomes less effective over time against Omicron compared to the Delta variant. This means that a booster injection to fortify the vaccine is imperative.
Thoughts about the booster shots
If you were vaccinated earlier this year, get your booster shot sooner rather than later. The CDC currently recommends that everyone ages 18 and older should get a booster shot six months after their initial Pfizer or Moderna series or two months after an initial J&J vaccine.
However, with the latest research showing that waning immunity begins at about five months, please consult with your doctor if you are at high risk (we estimate half of the population has partially impaired immune function) to discuss whether getting a booster shot 4-5 months after your vaccination is a better idea.
Thoughts about immunization for the unvaccinated
Vaccination leads to antibody count against Covid, which is especially needed to fight against Omicron. Those people who feared the unknown about the "new" vaccine should rethink their position. The vaccine is no longer a new entity or experimental. The sum-total adverse reactions to the vaccine do not compare to the sum-total of serious side effects related to Covid infections. Vaccines have prevented countless deaths. The emergence of Omicron has greatly increased the odds of becoming infected. Re-infection in unvaccinated individuals is much more common in those who have recovered from Covid-19.
For all these reasons, vaccinations have become increasingly important for our personal health. At the same time, the value of vaccination also has undeniable importance on for the well-being of our health care systems.
Hospitals, Urgent Care clinics and medical offices can no longer accommodate impact of Covid infected patients — either physically or financially. Health care workers have left their position in unprecedented numbers. The understaffed medical employees are overwhelmed and stressed. Watching so many die unnecessarily has led to PTSD and burnout in many workers.
Many hospitals have discontinued all elective surgical cases. A surgeon may have to delay a total knee or spine surgery procedures for 6 – 9 months. Treatment for non-covid medical issues have been postponed around the country.
Should Omicron alleviate your anxiety?
If anxiety and dread about Covid has caused you great distress, there might be some optimism for you. The solution to Covid is still herd immunity, and Omicron brings that herd immunity threshold a lot nearer. The risk of infection for unvaccinated people has skyrocketed, accelerating the path to reach herd immunity — and with a variant that appears less likely to cause serious illness or death.

Please don't misunderstand. Omicron will cause a lot of unnecessary suffering and death. This is tragic. I don't wish that on anyone. As these waves of variants continue, our resistance will improve.
Until we attain herd immunity, we must persist with protective measures despite our growing weariness around restrictions. A debate remains as to whether such measures are worthwhile. I predict that some form of protection such as frequent hand washing, wearing a mask in crowded space and social distancing with unvaccinated people will endure beyond herd immunity. Each individual will have to find a balance between safety and sanity. Social interactions produce a strong positive impact on mental and physical health, so we need to find ways to make these possible.
What about the holidays?
You may have planned your Christmas and New Year gatherings long before Omicron became a household name. Should these family festivities still happen?
The CDC has not made any changes to its initial recommendations from October, so you will need to use your judgment. Are all your family members vaccinated (and boosted, preferably)? Do you have lots of elderly guests planning to come?
Remember, the Covid-19 virus spreads via airborne particles and droplets released by infected people during exhalation. Speaking, singing, exercise, coughing, sneezing and even the simple act of breathing quietly can all propel viral spread. Should you avoid singing Christmas carols?
To reduce the risk of transmission at your holiday gathering, the CDC recommends opening windows and doors during indoor gatherings and placing a fan in the window to blow air out and encourage fresh air circulation. Are the temperatures still mild where you live? Think about moving the festivities outside.
Caution is not the same as panic
There is no need to panic about Omicron or any other new variant this winter. However, we do need to be cautious.
We also need to be prepared. As the pandemic eventually eases, it's expected that Covid will live on in the population similar to other circulating cold and flu viruses. When this happens the virus will be considered endemic. At that point, it will be much easier to manage.
Are you weary of the pandemic? We all are. But let's be resilient. As the winter solstice arrives, remember: the darkness is about to weaken, and the light is about to get stronger.
Last Updated: November 14, 2022