By WHN Editorial Team
We love green tea for so many reasons, but especially because it's so beneficial for women in menopause. The antioxidant compounds in green tea help relieve inflammation and stress. Green tea also helps improve memory and cognition, keeps your bones healthy and strong, and boosts metabolism — making it easier to prevent menopausal weight gain. Green tea may even reduce your risk for breast cancer and diabetes.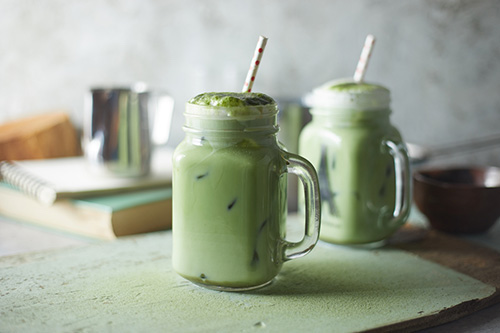 Now, imagine if you could take these amazing benefits of tea for menopause and multiply them by 10? That's exactly what happens when you drink Matcha green tea, a powdered form of green tea made from shade-grown tea leaves. Cup for cup, Matcha green tea provides an estimated 10 times more antioxidants than standard green tea. Plus, Matcha contains Vitamin C, selenium, chromium, zinc and magnesium — key vitamins and minerals your body needs to maintain hormonal balance.
Trying Matcha is a good match for diehard coffee drinkers because it still contains caffeine, with the added benefit of L-theanine to improve focus.
You can find Matcha powder in the tea section of your grocery store. Here's how to whip up our favorite iced or hot Matcha latte. Trying this drink couldn't be easier!
Iced or Hot Green Tea Matcha Latte
Ingredients
1 cup milk of your choice (we like almond milk!)
1 teaspoon Matcha green tea powder
1 teaspoon honey (optional)
Directions
Iced: Add Matcha powder and milk to a blender. Blend for 20 seconds or until Matcha is dissolved and milk is frothy. 2. Pour into a cup over ice. 3. drizzle with honey.
Hot: Heat milk in a small saucepan. Add matcha and whisk vigorously until the powder has dissolved and the milk is frothy. Remove from heat, pour into a cup and drizzle with honey. Enjoy!
Last Updated: February 8, 2023