You don't need much to do yoga but still, the choices for mats and clothes can be overwhelming. So let's flip our perspective and appreciate that we're surrounded by abundance when it comes to yoga gear, and that we get to choose exactly what's right for us.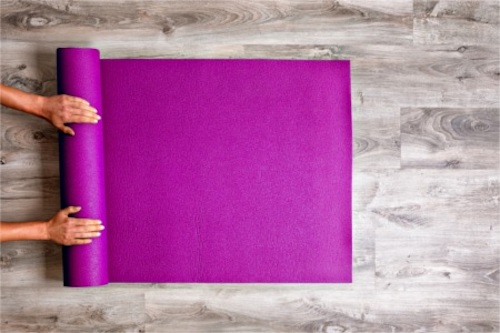 Here are your options for basic gear and tips for how to choose the mats and clothes you'll love using.
What should you wear to do yoga?
A yoga class is not a fashion show — though an avalanche of social media posts make it look like it is. There is no rule (I promise!) that says you have wear leotards with mesh patterns to a yoga class, unless you want to. Your yoga clothing can be snug or loose fitting — however, baggy clothes might get in your way.
If you want your body (and mind) to feel comfortable and supported while doing yoga, then aim for just that in the clothes you wear. This means that, in general, you should wear nothing that restricts your movement or gets in your way.
Leggings and tops and more
You don't necessarily need "workout" clothes to do yoga. And you certainly don't have to choose name brands like Lululemon or Athleta. While clothes from that kind of company may be better quality and "hold you in" in the right places, they are much more expensive. If you can spend $100 or more on a pair of leggings, and will enjoy that — then go for it. Otherwise, you can sport any type of legging, sweatpants, tanks or tee that lets you move freely.
And don't underestimate the importance of knowing what you like. If you like to exercise in cotton T-shirts, then wear those. If you like lycra shirts with built-in bras, then get some of those.
Upper body
Support: A sports bra will support your chest best, though you don't have to wear one. I have taught and practiced yoga in regular bras, but let's be real: underwires are uncomfortable and they don't guarantee that you'll "stay in place" while moving around. The last thing you want to do is have to keep yourself from popping out every time you transition from one pose to another. Trust me on this one.
Top types: If your shirt is too loose, then in Standing Forward Folds or Downward Facing Dog, it will move toward your face, exposing your stomach, which might cause you to feel annoyed or self-conscious. You can always tuck it in, or opt for a T-shirt or tank that isn't loose around the waist.
Cover-up after practice: While you may sweat during practice, it is nice to have a long-sleeve shirt or sweater to put on toward the end of class or during Savasana, as your body temperature will drop slightly during this rest time. Layering gives you options.
Lower body comfort
Pant types: Choose pants that hang only to the ankle or heel so they don't drag or trip you. Your best option is stretch pants that fit your form. You want to wear pants that allow you to sit on the floor, stand up, lunge, fold forward comfortably, etc.
Pant styles: There are tons of cute leggings and stretch pants out there in all kinds of patterns, colors, materials and brands. The "athleisure" industry is huge and still growing. Some are higher quality activewear but others are just leggings for anytime use. My collection varies from yoga-specific pants to no-name cotton leggings.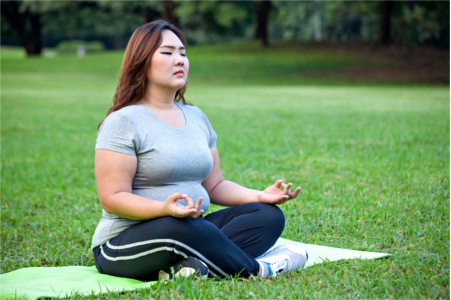 Yoga mats
Before you purchase a mat, consider trying out the rental options at your studio first. Do you like touching and moving on one of those? Or does your yogi neighbor have a mat you might like better? Ask your teachers and fellow practitioners what kind of mat they use, if they like it, and if you can touch the material to get a feel for it. Then, before you buy a mat, think about these factors:
Thickness
Yoga mats have varying degrees of thickness. Travel mats are about 1/16" thick and lightweight and are meant for the yogini who is on the go and brings her mat everywhere. These are good to bring on vacation or to roll out over a rental mat.Other mats are thicker — about 1/4" or more. These are great for sensitive knees and joints that need extra padding, as well as for practices that require you to be on the floor a lot, such as Restorative or Yin.
The standard "Goldilocks" mat is around 1/8", which is not too thin, not too thick.
Length
Standard length for a yoga mat is about 68" but taller women may want a longer mat. Most brands make them up to 74" long.
Grip
If you practice yoga that is Vinyasa style, with lots of flowing from one pose to another, many Downward Facing Dogs and so on, a mat with more traction is helpful to keep your hands and feet from slipping. Your hands may get sweaty (especially during hot yoga) so keep a small towel nearby to wipe your hands and reduce the slipping.Note that some super "grippy" materials are not really soft, so consider how you want the mat to feel when you touch, kneel or lie on it.
Material
Mats can be made of rubber, PVC, toxin-free, eco-friendly materials, or a combination of all. Decide what matters to you, remembering that materials used in some yoga mats may contain "off-gas" xenoestrogens, or have added flame retardants with similar negative health effects. Since non-toxic materials usually cost more, factor in how much you'll be using the mat. Compare materials and choose what feels good and right for you.Environmentally-conscious mat makers love to promote their eco-friendliness, so it's easy to find those.
Odor
Some mats made of rubber off-gas when new, and the odor may or may not go away over time. Other materials give off different odors. If you are sensitive to smells, definitely take a sniff before you purchase. Unfortunately cheaper mats are more likely to have a chemical smell.
Price
Cheap quality, thin mats that break down quickly cost $20 or under. This is the kind of yoga mat I keep in the trunk of my car to use when I'm practicing outdoors, etc. I don't use it a lot and don't care if it gets dirty.Thicker, well-made, no-slip, eco-friendly mats can run up to $120. Think about how much use you want to get out of your mat and what price you feel comfortable spending on it. There are many options and price variations.
Brands
The top makers of yoga mats are Jade, Manduka, Gaiam, PrAna and Lululemon. These brands provide high-quality, durable mats. These brands also offer a range of thicknesses, lengths, materials, and price points so that you can select one that you feel comfortable with.
Your yoga practice, your choice of clothes and mats
Remember: everybody is different. Just because the person next to you wears this top or practices on that mat, doesn't mean either is right for you. Part of the practice of yoga is self-study.
That's an invitation to figure out what kind of clothes and mat are going to work for you. Then, let the abundance of choices be a reminder of how lucky you are — you get to do yoga and have fun too!
Last Updated: January 10, 2022