Is winter synonymous with you having parched hair and a dry flaky scalp? You can cover your head with with a hat and hope for the best, but we recommend taking a different approach. Give your hair a treat this season with our easy DIY warming hair oil. It restores moisture and shine and helps to reduce dandruff. Plus, it's all natural and made with ingredients you may already have on hand.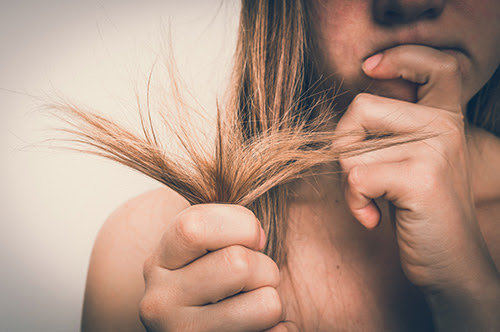 Rosemary and lemongrass essential oils are good for stimulating the scalp and reducing dandruff, and combine to produce a bright refreshing scent. Coconut oil adds needed moisture. Jojoba oil is helpful for balancing hair pH as well as adding moisture and shine to prevent frizzy hair.
DIY Winter Hair Oil Recipe
Ingredients: 
2 Tbsp coconut oil
2 Tbsp of jojoba oil
3-5 drops of rosemary essential oil
5 of lemongrass essential oil
Heat the coconut oil in the microwave in a small microwave-safe dish until melted (or melt in a pan on the stovetop and transfer to a small bowl). Add other ingredients and stir to combine. Work the oil into damp hair, starting at the roots and working your way to the scalp. Use fingertips to massage and stimulate scalp as you apply the oil. Cover hair in a towel to avoid getting the oil near your eye area. Leave hair covered for 10-20 minutes. Towel dry hair. If preferred, give hair a gentle rinse with warm water after treatment and towel dry.
Is your dry hair the sign of a deeper problem with your health? For many women, brittle or thinning hair is a hidden symptom of low thyroid. Other signs of underactive thyroid include fatigue, brain fog, weight gain and cold sensitivity. Take our Thyroid Health Quiz to learn more about your thyroid symptoms.
Last Updated: August 16, 2022