Our secret ingredient for pretty feet? Apple cider vinegar. ACV not only softens rough, dead skin, but the acetic acid in vinegar has antimicrobial properties that help to banish bacteria and fungus.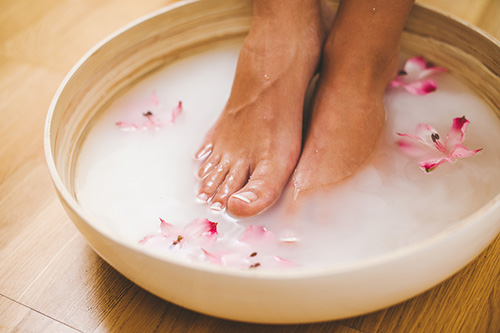 If you are dealing with dry, cracked heels, calluses and other trouble spots, our Apple Cider Vinegar Foot Soak may be just what you need to reveal fresh and fantastic looking feet. Essential oils in our recipe mean your feet will smell sweet too.
Apple Cider Vinegar Foot Soak
Ingredients
¼ cup apple cider vinegar
1 tsp oil of choice (olive or coconut)
Warm water
15 drops essential oil of choice (peppermint essential oil adds more antimicrobial power and a fresh scent)
Measure vinegar, oil and essential oils into bowl or basin large enough for submerging your feet. Add enough warm water to cover your feet. Soak your feet for 20 minutes. Remove feet from bath and exfoliate dead skin using a foot brush, pumice stone or simple salt or sugar scrub (like our Coffee Brown Sugar Scrub that you can make at home).
Finish with a light coating of your favorite natural moisturizer, and apply more moisturizer at night before going to bed. Repeat foot soak two to three times a week.
Last Updated: March 9, 2022