By Sherri Young,RN, Nurse-Educator
A friend invited me to a party last weekend and asked me to bring a vegetable dish. I immediately thought of veggies and dip, but then decided on a roasted vegetable platter. It was a tasty, nutritious hit! Here's my roasted vegetables recipe.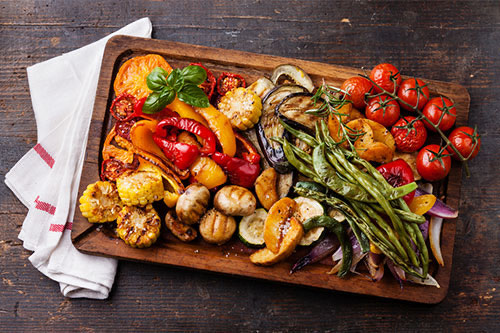 Ingredients
1 red pepper
1 yellow pepper
1 zucchini, sliced into ¼ inch strips lengthwise
1 summer squash, sliced into ¼ inch strips lengthwise
1 red onion, large, cut into 8 wedges
1 C cherry tomatoes
Olive oil
Salt and pepper to taste
Directions
Fire roast both of the peppers. Over gas burner or grill, blacken the entire skins of the peppers (use tongs to rotate peppers so that all sides are exposed to the flames). Once blackened, place the peppers in a paper bag or wrap in tea towels for approximately 10 minutes (this lets the steam loosen the skins from the peppers). Gently remove the skins with your hands (do not wash or use water to clean the peppers).
Cut the peppers in half and remove the stems, seeds and ribs. Cut into half inch strips.
Using just enough olive oil to coat, blister the cherry tomatoes in a sauté pan over high heat.
Drizzle zucchini, squash and onion with olive oil, salt and pepper to taste.
Grill (or use a grill pan) the zucchini, squash and onion over high heat until grill marks appear and the vegetables begin to soften (approximately 3 minutes per side).
Place all the vegetables on a platter and drizzle with olive oil and garnish with parsley and or fresh herbs.
Total preparation time: about 30 minutes.
Note: makes enough for about four people.
Variations
Use eggplant, fennel, grilled corn, asparagus or Brussels sprouts in addition to the standard vegetables. Serve with pita and goat cheese.
Published: December 1, 2019 - Last Updated: March 28, 2021
BACK TO TOP