I'm avocado obsessed and have discovered so many great new ways to use avocado to get all the benefits of the fruit's healthy fat, fiber, vitamins A, B6, C, D, K and potassium. I encourage you to try them out!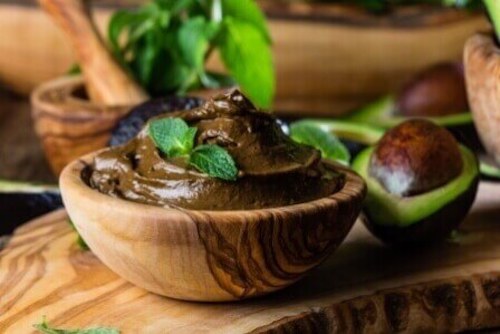 My 4 favorite avocado recipes
I love using avocados for every part of my meals — from happy hour guacamole to my all-time favorite dessert of avocado chocolate pudding. (You can see my recipe below.)
I make my guests guess what the pudding is made of — they rarely figure it out!
Avocado chocolate pudding
Ingredients:
1 avocado
2 Tbsp. of unsweetened cocoa powder
1 tsp. of raw nut butter (I prefer cashew or almond)
2 Tbsp. of coconut sugar, raw honey or maple syrup (I prefer maple syrup)
5 Tbsp. of non-dairy milk (I prefer coconut)
1 tsp of vanilla
Pinch of salt
Combine all ingredients in your blender. Chill and serve.
You can also add these toppings:
Shredded coconut
Nut pieces (I prefer pistachios – yum yum!)
Raw dark chocolate pieces
Sliced bananas
Red raspberries or strawberries
I always double or triple the recipe depending on who's coming to dinner.
Avocado mayonnaise
Tastes even better than regular mayonnaise, and if you're allergic to eggs, it's a life saver.Here's how you make it:
Ingredients:
2 ripe avocados
1/4 C organic olive oil
1 tsp of lemon juice, lime juice or apple cider vinegar
1/2 tsp garlic powder
1 tsp salt
1/2 tsp ground black pepper
Instructions:
1. Blend all ingredients in a traditional blender or food processor.
2. Use immediately as a spread for sandwiches and hors d'oeuvres, or save and store in a sealed container for two days maximum.
3. Enjoy your delicious, nutrient-packed mayonnaise alternative!
Grilled avocado
I discovered grilled avocado recently as an appetizer while on vacation. I think we ate six orders of them #avocadobinge! This is really delicious and simple:
Slice avocados
Brush with olive oil and shichimi togarashi (a delicious Japanese spice mixture)
Put face down on the grill for a few minutes
Avocado sandwiches
Here's my last secret when it comes to eating avocado — you can cut them in half and stuff them with all sorts of my favorite things. I like filling them with tuna salad for a new kind of sandwich.
A few extra ways to use an avocado
Avocado and raw honey face mask
This ultra-hydrating moisture mask will give your skin that post-facial glow without the outrageous expense of a spa treatment. This works as an overall body mask too.
Ingredients:
½ avocado, mashed
1 Tbsp. raw organic honey
Instructions:
1. Blend avocado and honey until the mixture forms a uniform, creamy texture
2. Apply an even layer to face, avoiding eye area
3. Leave on for 15 minutes
4. Rinse with warm water
Avocado hair care
Once your face and body get the avocado treatment, try it on your hair too.
Ingredients:
1 avocado
2 Tbsp. organic olive oil
Instructions
1. Blend avocado and olive oil together
2. Apply to damp hair
3. Leave on for 15 minutes
4. Rinse and shampoo your hair
Avocado pit foot massager
Several dried avocado pits in a big bowl can be a wonderful treat when you roll your feet over them for an at-home massage.
One final avocado trick
Have you seen frozen avocado at the grocery store? You can also freeze them at home by mashing them together with a little bit of lemon and storing in a re-sealable bag or glass container. Freezing is such an easy way to make sure you have a ripe avocado that's ready to go whenever you need it. And hopefully, this trick will keep you from that sinking feeling you get when you realize all of your avocados have gotten too ripe. Enjoy!
Published: January 18, 2018 - Last Updated: March 28, 2021
BACK TO TOP