By Dr. Susan E. Brown, PhD
Smack in the middle of the summer harvest season, fresh heads of cabbage are overflowing at in gardens, farmers markets and grocery stores everywhere. What can do you when life hands you cabbage? Why, make probiotic-rich lacto-fermented sauerkraut, of course!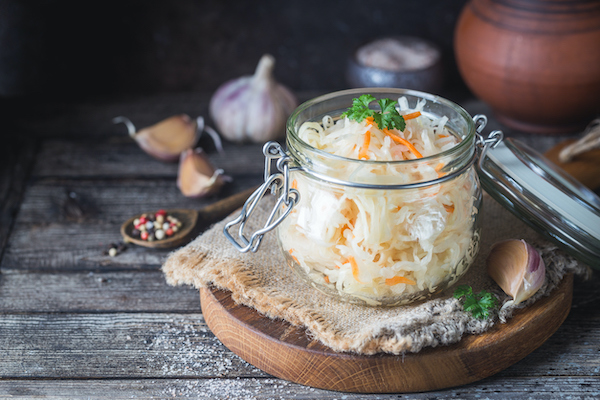 Fermented foods like sauerkraut help to bring our body's ecology into balance, enhancing beneficial gut flora, which brings with it so many health benefits — from better digestion to improved mood to enhanced immune function! Best of all, making your own fermented sauerkraut is economical, easy, and leaves you with a feeling of self-reliance.
My easy recipe for lacto-fermented sauerkraut
1. Wash the cabbage and take off the tough outer leaves (one of which will be used later).
2. Shred the cabbage with a mandolin or knife.
3. Put the shredded cabbage in a large glass bowl. Thoroughly mix the crushed cabbage with your hands or a wooden spoon. Add 1 ½ teaspoons sea salt for each ½ head of large cabbage. (You can salt to taste. The salt helps the fermentation process, and controls undesirable bacteria). Juice should exude from the cabbage as it is crushed.
4. Firmly pack the crushed cabbage and its juices in a wide mouth quart size Ball canning jar. Press it down tightly with a spatula or wooden spoon. Make sure that all the air is out of the jar and the cabbage is packed in its juices.
5. Add spring water as necessary to cover the cabbage. Then cut one of the outer cabbage leaves to fit inside the jar, providing a sort of seal. I put a shot glass on top of the leaf and screw on the cover, compressing the cabbage even further (others find this shot glass compression is not necessary to keep the cabbage covered with water).
6. Cover your jar with a lid, screwed on loosely to allow air to escape.
7. The length of the pickling session varies depending on temperature and amount of salt. I let it sit for four days and then taste. My last batch was great at five days.
8. When you are satisfied with the taste, put a regular ball jar cover on the jar and refrigerate.
9. Enjoy!
Last Updated: November 9, 2022