Can a kitchen gadget change your life? In the case of the Instant Pot, the new age pressure cooker that sautés, steams, quick cooks and even makes yogurt, I am leaning towards an emphatic YES!
Since acquiring my Instant Pot a few months ago, I have completely fallen in love with how much easier and faster it makes preparing healthy, whole foods-based meals. No wonder my grandmother always used her stovetop pressure cooker whenever we had a big family meal. There's simply none of the constant stirring or hours-long cooking times that conventional meal prep can require.
Try my new favorite recipes
If you're new to the world of pressure cooking, or are just looking for some new ideas, here are five healthy Instant Pot recipes for you to try. Each takes only minutes to make. (Please note that cooking times and directions may vary according to model or brand of electric pressure cooker. Recipes were tested using an Instant Pot Duo model.)
1. Zesty zucchini noodles
Take a break from gluten with zucchini noodles (pictured above)! Sautéed in an Instant Pot in a matter of minutes, these quick-cooking noodles are packed with flavor — and fiber. Perfect for a light dinner or side dish, especially when you're running tight on time.
Tip: if you don't own a spiral slicer, look for packages of pre-spiralized veggies in your supermarket produce section. This makes meal prep even faster!
Ingredients:
2 large zucchini, spiraled
2 Tbsp olive oil
2 cloves of garlic, finely diced
Zest of ½ lemon
½ tsp sea salt
Juice of ? lemon
4 Tbsp grated Parmesan cheese
Cracked black pepper, to taste (optional)
4 fresh mint leaves, chopped (optional)
Process:
Using your Instant Pot's sauté function, allow cooker to heat up for 1-2 minutes.
Add olive oil, garlic, lemon zest and salt and stir for 30 seconds, until fragrant and garlic is light golden brown.
Add zucchini noodles to the pot and drizzle with lemon juice.
With a wooden cooking spoon, stir noodles to combine with the oil mixture. Allow noodles to heat for approximately 40 seconds. (They heat up fast, so don't wait too long or they will turn to mush.)
Plate noodles immediately and sprinkle with grated parmesan, and cracked pepper and mint (optional).
Makes 2-3 servings.
Adapted from Instant Pot Eats: 10-Minute Zucchini Noodles With Garlic, Lemon & Parmesan
2. Instant Pot oatmeal
When you're under pressure to get out the door in the morning, use your Instant Pot to create a delicious hearty bowl of steel cup oats in minutes — no overnight soaking required. As a whole grain food, steel cut oats fill you up and provide you with a sustained source of energy to fuel your day.
Ingredients:
1 cup steel cut oats
3 cups water
1/2 Tbsp butter or coconut oil
1/4 tsp cinnamon or vanilla (optional)
Toppings of your choice: chopped strawberries, bananas, blueberries, apples, chopped dates, flax seed, coconut flakes, chopped nuts, nut butter, etc.
Process:
Add steel cut oats and water to the Instant Pot.
Close the lid on the Instant Pot and use manual settings to set cook time to 6 minutes. Seal the lid and wait for the Instant Pot to begin building pressure.
Once the cooking cycle is completed, allow pressure to release naturally. (This may take 6-8 minutes.)
Open the lid and give the oatmeal a few quick stirs. Add cinnamon or vanilla if desired.
Spoon oatmeal into a mug or bowl and add toppings of your choice before eating.
This recipe makes approximately 3 servings. Store leftover oatmeal in an airtight container in the fridge for up to 5-6 days. Heat leftovers in the microwave for a quick breakfast.
Adapted from the Veggie Chick's Instant Pot oatmeal recipe
3. Chicken chili verde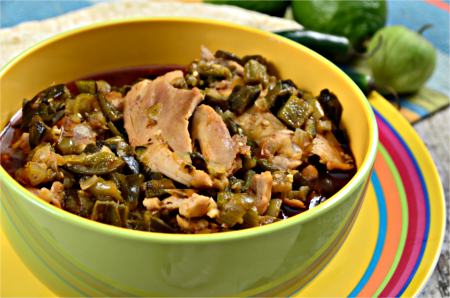 Gluten-free and dairy-free, this bright and spicy chicken chili verde is a nice spring switch from winter's heavier beef stews. Cumin — a spice prized for its health-enhancing phytonutrients — provides a deep flavor base for the dish. Best of all, using your pressure cooker means that your tasty lunch or dinner will be served in minutes.
Ingredients:
1 pound bone-in skin-on chicken thighs
2 tomatillos, husks discarded and halved
1 large poblano pepper, seeded and chopped
1 medium Cubanelle pepper, seeded and chopped
1 jalapeño pepper, seeded and chopped
1 medium white onion, chopped
3 medium garlic cloves, peeled
1 Tbsp ground cumin
Kosher salt
1/2 cup chopped fresh cilantro
Dollop of Greek yogurt for garnish (this will add dairy; optional)
Fresh corn tortillas and lime wedges, for serving
Process:
Combine chicken, tomatillos, peppers, onion, garlic, cumin, and a pinch of salt in the pressure cooker. Heat over high heat until gently sizzling.
Seal cooker lid and bring to high pressure. Cook for 15 minutes. Release pressure.
Using tongs, transfer chicken to a dish and set aside. Add cilantro to remaining contents of pressure cooker. Whisk briskly to combine. For a smoother chili sauce, blend in the pot with an immersion blender.
Discard chicken bones and skin and shred chicken before returning to the sauce.
Transfer to soup bowls and garnish with a dollop of greek yogurt if desired (bonus points if you made this earlier in your Instant Pot).
Serve immediately with tortillas and lime wedges. Makes 2-3 servings
Adapted from Serious Eats: Easy pressure cooker green chili with chicken
4. Chopped beets with tangy yogurt lime sauce
Flavorful in their earthy and sweet way, beets are rich in betaine, a powerful antioxidant that can block the formation of several inflammatory markers. With the ease of pressure cooking, tender beets can be on your plate in no time flat. Get ready to meet your new favorite root vegetable! Yogurt lime sauce gives this simple beet dish a tangy zip.
Ingredients:
6 medium beets
1 lime
1 Tbsp virgin olive oil,
1 cup plain whole-milk yogurt
1 garlic clove, minced
Pinch of sea salt
2 Tbsp chopped fresh dill
Cracked black pepper, for garnish
Process:
Scrub beets under warm water and chop off most of green stems, leaving about an inch.
Fill pressure cooker pot with 2 cups of water. Insert steamer basket and arrange beets in the basket. Close and seal lid. Cook on high pressure for 30 minutes.
Release pressure. Pierce beets with fork to check for tenderness. If needed, cook on high pressure again for another 5 to 10 minutes.
While beets cook, grate lime zest and reserve; cut lime into wedges and set aside. In a separate bowl, whisk together yogurt, garlic and lime zest.
Transfer cooked beets to a large bowl and allow to cool. While still warm, skin beets by rubbing with a paper towel or using a paring knife. (Skins should slide right off).
Chop peeled beets into slices or wedges and arrange on a serving plate. Drizzle olive oil and fresh lime juice over the beats first and then finish with yogurt dressing. Top with dill and cracked black pepper. Sprinkle with sea salt for taste.
Serves 2-3
Adapted from Epicurious: Beets with dill, lime and yogurt
5. Chipotle black beans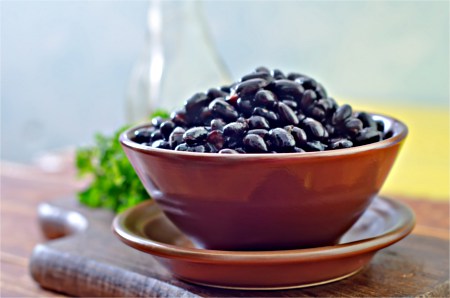 Beans are filled with fiber and slow-burning carbohydrates that help keep your blood sugar levels steady throughout the day. But canned beans — that may have added preservatives and BPA (bisphenol-A) from the can's lining? No thanks.
Cooking up dried beans in a pressure cooker is easy and cheap — and best of all, there's no pre-soaking required! We're talking pennies (and minutes) for a wholesome lunch or side dish. Garnish as desired.
Note: For plain black beans, omit all ingredients except beans and water. Plain beans work really well in black bean brownies!
Ingredients:
1/2 medium yellow onion, diced
3 garlic cloves, minced
3 cups water
1 cup dried black beans, rinsed and stones removed
1 Tbsp cumin powder
1/2 to 1 tsp chipotle powder (adjust for spiciness)
Salt to taste
Process:
Turn Instant Pot to sauté setting and add chopped onion and garlic. Sauté for 5 minutes, stirring occasionally,until onion is translucent and garlic is light golden brown.
Add water, black beans and spices. Close and seal lid. Set cooking time to 35 minutes. After pressurizing and cooking, allow time for natural steam release before opening.
Test beans to make sure they are cooked through and have desired level of spiciness. If needed, add short amounts (5-10 minutes) of cooking time until beans are tender.
Use a handheld strainer to remove the beans. Salt to taste. Makes 3 cups.
Store leftovers in the fridge for up to a week.
Adapted from the Veggie Chick's chipotle black bean recipe
Published: June 4, 2018 - Last Updated: March 30, 2021
BACK TO TOP