I'll be the first to admit that getting a healthy meal on the table every night has felt like a puzzle I just can't seem to solve. So this year, in an attempt to make dinner a more nutritious — and saner — meal for my busy family, I signed up for a delivered meal service.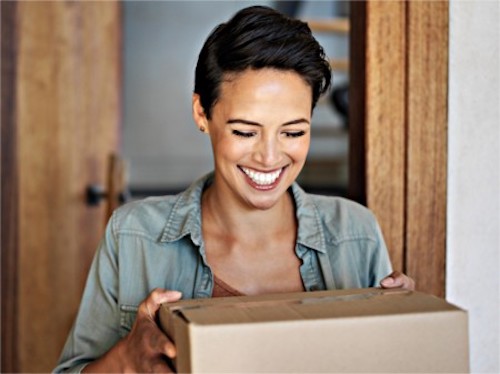 Each week, I get a box of fresh ingredients plus the promise that I can turn out a healthy dinner for four in no time flat.
Honestly, I can already say this service is a lot easier for me than what I used to do. But are these meals really healthier for my family?
4 benefits and 1 "but" for delivered meal kits
Here's what I've learned after a few weeks with delivered meals:
1. We're not eating fast food or takeout — and for that I'm grateful
My latest meal kit included all the ingredients needed to make glazed pork chops with stir-fried vegetables and wonton noodles. From box to table, the meal took about 25 minutes to prep — just like the easy-to-follow recipe card said it would.
How did this stack up against our usual busy-family takeout?
According to the nutritional label, each meal serving contained about 700 calories, 20 grams of fat and 60 grams of carbohydrates. In contrast, a typical drive-through burger and fry meal can pack upwards of 1,000 calories, 70 g of fat, and 70 g of carbs. Our meal also contained decent amounts of iron, calcium and vitamins A and C. This all adds up to a clear nutritional win for the delivered meal.
2. I'm less stressed about what's for dinner
When a hectic day leads to a hectic evening of scrambling to get everyone fed, it amps up my stress levels at a time when I should be unwinding.
Coming home to find that cute little insulated meal box on my doorstep has made me feel a deep sense of relief. I know that — on that night at least — I will have some extra time to relax and de-stress. And no more pizza guilt!
3. Serving size awareness is key
Sitting down to eat our pork chops, I was struck by the nice variety of foods on our plates. There were plenty of vegetables, a tasty protein and just enough noodles to feel satisfied but not stuffed.
That's in contrast to the last time I concocted our dinner from the buffet at Whole Foods. Eyeballing how much mac and cheese to scoop into a container almost always leads me to overcompensate and buy too much — and later, eat too much. Another win for the delivered meals: they're a good reminder of what a serving size is really supposed to look like.
4. You actually learn how to cook!
The recipe cards come with pictures to go along with the directions, so when I am told to sauté spinach, I can read and see exactly what that means and how to do it. On the nights when I don't have a prepared meal available, I find myself inspired to think of ways to make dinner using vegetables and other ingredients that we already have — because I now know how to cook them!
At our lowest point last year, there were a few busy months when we ate out six or even seven nights per week. Now we're up to six to seven nights eating at home. It may be because the ingredients are packaged so cutely, but my kids have really gotten into helping me prepare these meals — so they are learning to cook too! And a meal cooked and eaten at home — well, it's much more of a family thing than takeout or frozen pizza.
But about that packaging…
I love feeding my family healthier meals. But given the nature of delivering fresh perishable foods via FedEx, it takes a lot of packaging — and a lot of gas mileage — to get this terrific food to my door.
Most delivered meal companies have stepped up to offer recycling for packaging that is returned to them (including the delivery box). That's great. But when I think about the food being shipped from the producers to the meal delivery company and then to my doorstep — and then I am going to ship a box back to the delivery company? It feels like our one meal has crisscrossed the country more than I ever have.
This has weighed heavily on me, so I was ecstatic to find out that some crafty local farmers have gotten in on the delivered meal craze by offering their own meal boxes. Filled with farm-fresh ingredients, food packaging is minimal and reusable (and still on the cute side) and the recipes are just as easy and delicious to follow — and still come with pictures.
We've tried the farm meals and love them. Once our current meal delivery plan runs out, we've decided to switch to this local service.
Ironically, we have to pass our "go to" pizza joint on the way to and from the farm. Driving by, I think about our favorite waiter and the funny chef who would spell out the days of the week on our pizza in pepperoni.
I miss these people and wonder — would they ever like to come over for a home-cooked meal?
Published: April 2, 2018 - Last Updated: March 28, 2021
BACK TO TOP