By WHN Editors
Women call us every day asking for help with a wide range of symptoms of hormonal imbalance. But recent research has revealed that the top symptoms of hormonal imbalance are changing — and increasing.
We looked at new data taken from thousands of our Women's Health Network hormonal imbalance symptom profiles and found that more women are reporting severe anxiety as a symptom of menopause, perimenopause and PMS — a staggering increase of 31% since 2008.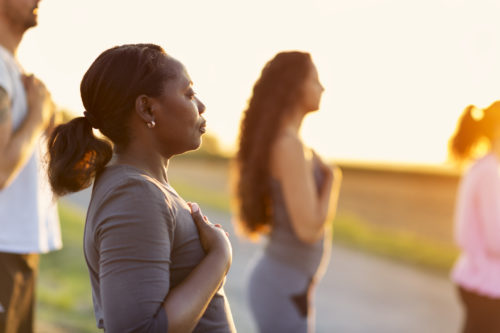 Through our profiles, women are telling us that their anxiety and stress-related symptoms are surging much more rapidly than symptoms such as hot flashes and weight gain. What's more, digestive issues, sleep issues and stress also intensified in women's daily lives.
What hormonal imbalance symptoms are increasing the most?
While anxiety and stress-related symptoms escalated the most, all symptoms were reported to be worse in 2016 than just 8 years earlier. Here are just a few examples: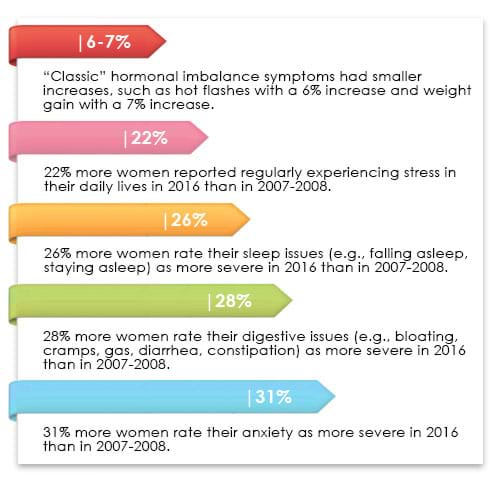 Other common symptoms of hormonal imbalance
In addition, women tell us they experience the following symptoms of hormonal imbalance:
irregular periods
fatigue/loss of energy
forgetfulness/fuzzy thinking
thinning hair or hair loss
vaginal dryness
low libido
joint discomfort/stiffness
food cravings
irritability
What does this mean for you?
If you're a woman suffering from symptoms during menopause, perimenopause or PMS, your hormones are most likely out of balance. That means it's likely you'll continue to suffer from symptoms, and those symptoms may change and become even more intense. You can take our most recent hormonal health quiz to see how many symptoms you have.
How were the results determined?
At Women's Health Network, we wanted to look at how symptoms of hormonal imbalance were changing over time. To do this, we took the results of our hormonal health profile, which allows women to rank their experiences with common symptoms of hormonal imbalance. In the analysis, 10,000 profiles completed by women ages 25 to 70 in 2016 were compared to 10,000 profiles taken by similarly-aged women in 2007-2008. According to the comparison of these 20,000 profiles, women aged 25 to 70 in 2016 are reporting significant differences in the type and severity of their symptoms, when compared to women of similar ages in 2007-2008.
Last Updated: November 27, 2022