Whether you call it the winter blues, blahs or doldrums, it's natural for us to slow down as the temps drop. But since we don't have the option to hibernate, what can we do?
Here are our top ideas – straight from our winter experts in Maine!
1. Warm up with seasonal foods. At this time of year, your body needs warming foods that are easier for your digestive system. Fill up the slow cooker with root vegetables or try our simple soup recipe below.
Yum! Pumpkin ginger soup recipe
½ onion
1 tbsp. minced fresh ginger
1 16-ounce can organic pumpkin
4 cans broth or water
Pinch of cinnamon
Sauté onion with ginger and a sprinkling of cinnamon.
Add pumpkin and broth or water and simmer 20 minutes. Blend if desired and serve with yogurt.
2. Create a special winter ritual you love.For me, winter is "bath season." I love taking a warm bath, but not in the heat and humidity of summer when I could be out swimming. I save this treat for when the temperatures drop.
3. Catch some morning sun.Getting outside for a quick 10-15 minute walk in the morning is one of the most effective ways to combat the winter blues, and depending on where you live, get your body a little vitamin D. If this is not a possibility then the next best option is to get a light box, which mimics outdoor light. Use it in the morning for 30 minutes.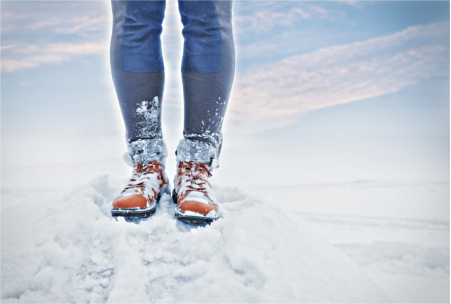 4. Load up on zinc. Nothing gets me down more than balloon head and the sniffles. When I feel like the cold or flu is trying to catch me, I add more zinc to my diet with supplements or foods like wheat germ, oysters and liver. If you take high doses of zinc (such as 75 mg) within 24 hours of being exposed to a cold, you can beat it faster.
5. Get cozy with your puppy.I always feel happier and cozier sleeping with my dog nearby. But for years I kept my furry friend out of the bedroom because I was worried it would affect my sleep quality. Fortunately new research shows a dog in the bedroom isn't disruptive to sleep (although having one in your bed can be). No word on a cat study yet, but I volunteer to be part of it!
Finally, I recommend you go with the flow and don't beat yourself up if you aren't feeling as motivated or as peppy as you do in the summer months. Often, the blahs are temporary. But if you think your ongoing winter blues may actually be something more serious – such as seasonal affective disorder (SAD) – see how a natural approach can help you.
References
Patel, Salma I. et al. The Effect of Dogs on Human Sleep in the Home Sleep Environment Mayo Clinic Proceedings, Volume 92, Issue 9, 1368 – 1372.