As the holidays draw near, I want you to know that eating healthier – and happier – this time of year is entirely doable. Just a little planning goes a long way. So does reminding yourself to unload the unrealistic expectations and negative voices in your head. (You probably will eat some cookies. And that's okay.)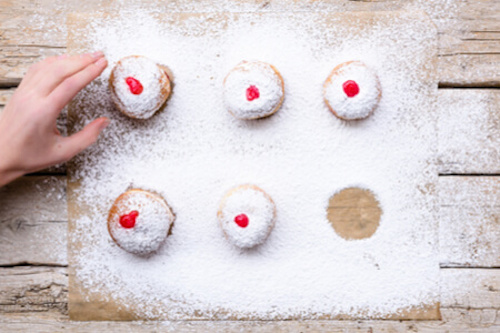 Here are 7 ways you can get into the holiday spirit without having to completely ditch your healthy eating efforts until 2021:
My holiday eating strategies
1. Don't try starving. Delicious food is such a focus of the holidays that it becomes a big issue for women concerned about their weight. You may be tempted to try not to eat anything at all, but skipping meals or starving yourself leads to problems such as blood sugar crashes and poor food choices. Eating a healthy and filling snack before you go to parties is a classic tip. It's also a great idea to keep in mind before you head out to other holiday activities, like shopping trips to the mall, a quick drink with friends or volunteering. Otherwise when hunger hits, there always seems to be a peppermint-pumpkin-gingerbread-something-or-other treat that you won't be able to pass up. And when I'm starving, I can never stop with just a taste. Can you?
2. Practice mindful hors d'oeuvres eating: When trays of mini-meatballs go zooming by, it's easy to lose track of what you're eating. My plan this year is to slow down and be mindful about every single thing that I've got on my plate. I'm going to take time to savor the taste, texture and smell of my food. I'm also going to take extra time to practice mindful eating when I'm eating something I really love.
3. Choose a simpler cocktail. Many signature holiday punches and mixed drinks have a lot more sugar than most cocktails. Wine or beer is a better choice. Or, stop after just one holiday drink. Keeping yourself to one drink can also help stop you from getting too much into the party spirit and overeating.
4. Eat foods that fill you up, not make you hungrier. Eating protein at every meal, snacks included, helps to slow down digestion and keep blood sugar levels more stable. You'll feel fuller longer and better resist cravings. Avoid foods that are high in sugar. These foods are going to make you hungrier – and make you crave even more sugar. As you plan what to eat, remember that sugar isn't just sweets, but also alcohol and simple carbohydrates.
5. Create new holiday traditions with or without food. We can get so caught up in the way we "always" do things that we forget there is still room for change in many of our favorite traditions. I still make gingerbread cookies. But now I use them to decorate the tree. This way the focus is more on the fun than on the food.
Think about ways you can modify and update some of your favorite recipes. Latke can be baked instead of fried. Or you can use Greek yogurt instead of sour cream. If you really like how they turn out, you'll have a great new recipe to share at the party. On the other hand, if you have a favorite recipe you can't bear to modify, don't worry about it. You can make modifications in other recipes.
6. Plan ahead for home too: With all the festivities, it can be easy to forget about the meals you are eating at home. Preparing healthy meals and snacks ahead of time keeps convenience from taking priority when you're rushing around.
7. Do not feel obligated to take leftovers home from a party. If you do feel more comfortable taking a plate home with you, you can share gifts of food or donate it. I also remind myself not to force a platter on everyone leaving my house.
You can start by choosing just one of the ideas above. Or be inspired to make other changes that work for you. After all, this time of year is about friends, family and celebration.Here's to a happy and healthy holiday season!
Published: November 27, 2017 - Last Updated: March 28, 2021
BACK TO TOP