Eggs are a great option for breakfast – and brunch, lunch and dinner too. Our sun-dried tomato with goat cheese and prosciutto frittata recipe below is packed with protein and heart-healthy omega 3s, along with a sneaky serving of nutrient-rich vegetables.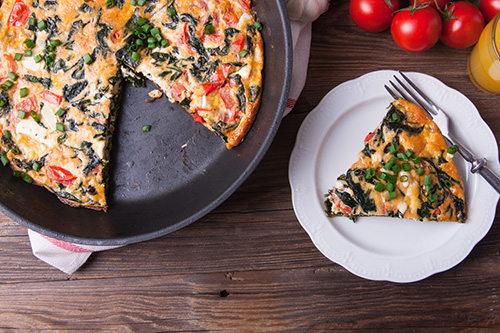 Here's our favorite frittata recipe
Ingredients:
12 large eggs
½ cup whole milk, sour cream, crème fraiche or plain yogurt
6 slices prosciutto, sliced in half (lengthwise) and shredded
¾ cup fresh baby spinach, without stems
½ cup herb and garlic goat cheese crumbles
? cup sun-dried tomatoes, diced
1 ½ tsp Himalayan salt
¾ tsp ground black peppercorns
Optional ingredients:
¼ cup fresh basil, without stems, chopped
¼ cup vegetable(s) of your choice: chopped onions, sliced mushrooms and/or potatoes (cook these ingredients separately prior to baking).
Instructions:
Preheat oven to 350 degrees Fahrenheit.
Combine 2 eggs and whole milk (or your preferred dairy substitute, such as almond milk) in a large bowl and mix thoroughly.
Gradually fold in 10 remaining eggs and whisk until smooth.
Coat a 10" round skillet with ghee or your preferred cooking oil.
Add remaining ingredients: prosciutto (or turkey bacon), spinach, goat cheese, tomatoes, salt and pepper to the mixing bowl and stir gently.
Pour batter into prepared skillet.
Bake at 350 degrees for 20-30 minutes, depending on the size of your pan.
3 tips for a fabulous frittata
A good frittata should have the texture of a custard or thick gelatin: trembling, and barely set. By contrast, an over-cooked frittata will look strikingly similar to a used kitchen sponge — so don't overcook!
If you're making this recipe as part of your meal prep routine — to be eaten later rather than served immediately — we recommend slightly undercooking it. That way, your frittata will be perfectly palatable when you reheat it.
The recipe is already gluten- and nut-free, but you can also choose coconut, soy or almond milk instead of cow or goat milk. Or choose an herb and garlic vegan "cheese" (usually made from coconut milk or cashews) instead of the goat cheese.
More reasons to love eggs any time of the day
Aside from being a great source of protein, eggs are packed with healthy nutrients, such as:
Folate
Riboflavin
Selenium
Choline
Vitamin B-12
Vitamin A
Vitamin K
Vitamin D
Lutein & zeaxanthin (both great for eye health)
Eggs are an important part of the Women's Health Network nutritional guidelines. See how our approach will help you feel your best.
Published: June 27, 2018 - Last Updated: March 30, 2021
BACK TO TOP