This flourless banana bread delivers a triple threat of protein, flavor and nutrients that the whole family will love. The best part? It's gluten-free, nut free, dairy free and contains zero artificial sweeteners or preservatives. Each serving packs a powerful punch of superfoods including coconut oil and rolled oats.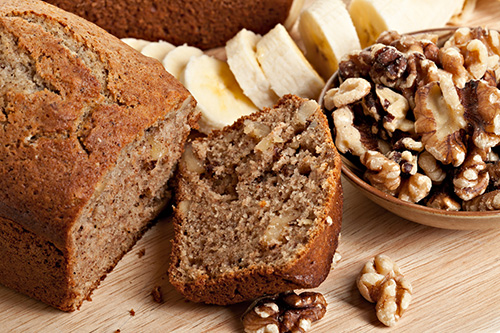 Flourless banana bread
Ingredients
2 cups gluten-free rolled oats, uncooked
3 slightly overripe bananas, mashed
1 1/2 tsp baking soda
1/2 tsp cinnamon
3/4 tsp sea salt
1 1/2 tsp pure vanilla extract
1/3 cup coconut oil
1/2 cup shredded coconut
1/2 cup pure maple syrup (honey works too!)
Optional additions: 1/2 cup walnuts, pecans or mini cacao chips (Some of these additions will result in a recipe that is no longer considered "nut-free.")
Instructions
Preheat oven to 375° F
Coat a 9 x 5" loaf pan with coconut oil — make sure to cover all the way up the sides.
Blend all ingredients (except for optional nut or cacao additions which can be folded into batter before turning into loaf pan) in a food processor or blender. If you don't have these tools, simply mix ingredients together in a large mixing bowl and stir until smooth.
Pour batter into the prepared pan and bake on the middle rack for 35-45 minutes.
After your timer goes off, turn the oven off and insert a clean (non-serrated) knife into center of loaf to make sure that it's cooked through — your knife should come out clean.
Let the bread sit in the closed oven for 10 minutes.
Remove loaf pan from the oven and let cool completely before slicing around the sides of the pan with a knife. Then, flip upside down to invert banana bread onto serving plate.
More easy ways to enjoy rolled oats
Oatmeal: Give your morning cereal a major boost by cooking your oatmeal with an alternative milk instead of regular old water — we love cashew or flax seed milk. Top with a hearty mixture of nuts and berries for added protein and antioxidants.
Oat flour: Substitute gluten-free oat flour in any recipe that calls for white or whole wheat flour to boost nutritional value of your baked goods — sans gluten.
Oats are the only food source that contains a polyphenol called avenanthramide which naturally increases nitric oxide production while inhibiting vascular smooth muscle cell proliferation — lowering blood pressure and restoring arteries to a healthy state.
That's why if certain lifestyle factors or family history have increased your risk of developing heart disease or atherosclerosis (translation: coronary artery disease, stroke, peripheral artery disease or kidney issues), getting more oats in your diet is a wonderful natural remedy for proactively reducing high blood pressure and plaque buildup. And another big reason to enjoy delicious — and nutritious — flourless banana bread.
P.S. Don't be surprised if it's gone before lunchtime…
Published: April 11, 2018 - Last Updated: March 30, 2021
BACK TO TOP