By WHN Editors
Summer is the perfect time to enjoy a refreshing iced tea, and what could be better than an easy thirst quencher that doubles as a traditional health remedy? Whether you're looking to ease your hot flashes, boost your immune system, tame inflammation or calm your nerves and get more sleep, we've got the perfect iced herbal tea recipe for you.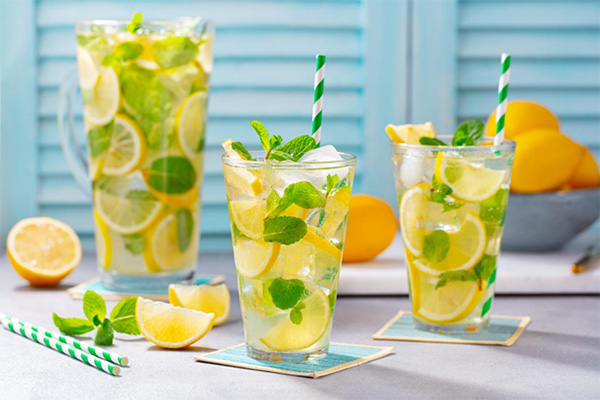 5 tasty and healthy iced tea recipes
Hibiscus Iced Tea
Hibiscus tea is HEALTHY tea! Naturally rich in antioxidant compounds including beta-carotene, Vitamin C and anthocyanin, hibiscus is a healer for so many ills, including inflammation (it's a natural anti-inflammatory), cholesterol and blood pressure issues. Hibiscus supports liver function, helping the body better metabolize estrogens and ease hormonal symptoms like hot flashes.
Ingredients
½ cup dried hibiscus flowers
8 cups of water
¼ cup honey
3 tablespoons fresh lime juice
In a pot, bring water to a boil. Turn off heat, stir in hibiscus flowers and cover. Allow tea to steep for 15-20 minutes. Remove lid and strain out hibiscus. Stir in honey and lime juice. Serve over ice.
Love sun tea? Hibiscus brews up quickly in direct sunlight, creating a deep rose colored tea that is a true summer's delight. After brewing remove flowers and stir in honey and lime juice or experiment with adding other herbs like basil and lemongrass for added zest. Studies have shown that drinking hibiscus tea on a daily basis can help reduce the frequency and intensity of hot flashes.
Lemon Balm Iced Tea
A member of the mint family, lemon balm is a traditional healing herb whose use can be traced all the way back to the Middle Ages! Lemon Balm can help calm the nerves and promote relaxation, and ease indigestion. As the name implies, the herb has a pleasant lemony taste that makes it an excellent choice for iced tea.
Ingredients
1/2 cup of fresh lemon balm leaves or 3 tbsp dried leaves
4 cups of water
Lemon slices (optional)
2 tbsp honey (or sweeten to taste)
Steep lemon balm leaves in boiling water for 10 minutes. Strain the tea and stir in honey before allowing tea to cool. Pour over ice to serve, adding fresh lemon slices if desired.
Mint and Ginger Iced Tea
Got indigestion? Mint is a favorite go-to herbal remedy for helping to soothe bloating and gas. Ginger is also known for its digestive benefits, stemming from its anti-inflammatory properties that can help to ease pain and discomfort. Our recipe is adapted from this trusty Martha Stewart favorite.
Ingredients
6 ounces fresh ginger, peeled and smashed with a meat mallet
4 bags mint tea
8 cups boiling water
2 tablespoons honey
Bring water to a boil and add mint tea and ginger. Allow mixture to steep for 8 minutes. Strain out ginger and remove tea bags. Stir in honey and allow tea to cool. Serve over ice.
Chamomile and Lavender Iced Tea
Chamomile and lavender are both calming herbs that can help to reduce anxiety and promote restful sleep. Chamomile may also be helpful for relief of seasonal allergies, including hay fever. Combined, lavender and chamomile offer sweet and soothing summertime refreshment. Drink in the evening to give you a good head start towards a restful night's sleep. Recipe adapted from Sunset Magazine.
Ingredients
2 tbsp dried culinary lavender
2 tbsp dried chamomile (or 4 chamomile tea bags)
Add herbs to a 1/2 gallon jug of water. Cover and refrigerate 6 hours. Pour through a cheesecloth-lined colander into pitcher. Serve over ice.
Rose hip Iced Tea
Rose hips are rich in disease-fighting antioxidants, including Vitamin C, catechins, quercetin, and ellagic acid. These compounds help lower inflammation and oxidative stress — giving heart, skin and immune system health a boost!
Ingredients
4 cups water
4 tablespoons dried rosehips
2 tbsp honey or 1 cup of pomegranate juice
Bring water to a boil in a saucepan. Add rose hips to boiling water, cover, reduce heat, and simmer gently for about 5 minutes. Remove from heat and allow to cool. Strain to remove rose hips. Stir in honey or pomegranate juice. Serve over ice or pour into a jug and refrigerate until chilled.
What's your favorite summertime iced tea?
Last Updated: August 17, 2023