We recently surveyed more than 900 women and found that while 80% had gone to their doctors for help with menopause, more than 60% weren't able to have a supportive, honest discussion about menopause options.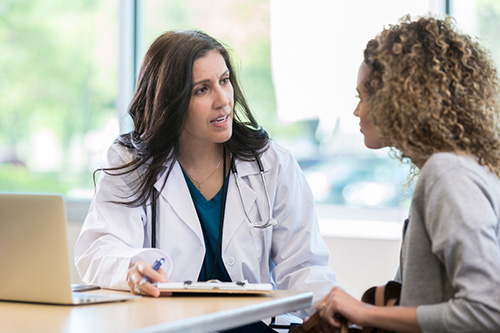 There are many reasons why this is the case:
You deserve to get the support you and your body need during menopause and perimenopause. Using the following information as a guide, you can have a more open, honest and effective conversation with your doctor or healthcare provider.
Preparing for your visit
You'll have the most useful conversations with your medical practitioner if you go to your visits feeling prepared, confident, and ready to get the most out of your time with your doctor. You may want to schedule a 15-20 minute appointment/meeting with your doctor specifically to discuss your perimenopause or menopause symptoms. This gives you and your doctor the time and space to have a conversation.
There are several good ways to prepare. But first and foremost, we want to remind you to believe fully in your own knowledge of your body. Know that you are the only one who's been living inside your body for all these years and you are the best judge of what will work for you.
Here are some ideas to think over:
When did the symptom(s) start or when did you first notice it?
Has the symptom changed or gotten worse since you noticed it?
How would you describe the symptom(s)?
What have you tried to find relief?
Getting the most out of your appointment
If you plan to come into this partnership with your own deep knowledge about yourself and your doctor coming in with her medical expertise — the possibilities are endless. Keep the following in mind to get the most out of your conversation with your doctor:
Make it work for you
Your doctor ultimately wants what you want — for you to feel better. Communication is the best way to get there. By understanding your own wants and needs and where your doctor is coming from, you are more likely to get what you desire out of every doctor's visit. Menopause may be a natural process, but symptoms can certainly disrupt our lives, and no matter how much you try to accomplish yourself, you need regular check-ups and care. Having a trusted medical partner who will work with you will make all the difference in finding the solutions that are right for you.
Last Updated: November 14, 2022