Tapping is a self care technique that draws from acupressure and TCM energy medicine to help release stress, pain and anxious thoughts keeping you up at night. The practice is easy: using your fingertips, you simply tap certain energy points on the body as you mindfully release tension.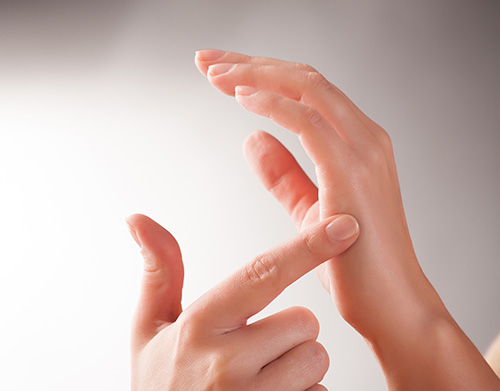 Want to give tapping a try? Here's how to do it…
1. Identify your problem and create a positive affirmation phrase to address it. For example: Even though I feel stressed, I completely accept myself.
2. Using either your index finger or the fingertips of your right hand, tap the outer "karate chop" part of your left hand (see photo above). Tap long enough to recite your problem and affirmation phrase three times. Repeat using the left fingertips to tap the outer right hand.
3. Tap other energy points in the following sequence:
– Eyebrows (Close to the nose where the eyebrow starts.)
– Side of eyes (On the bone bordering the outside corner of the eye.)
– Under eye area (On the bone about 1 inch below your pupil.)
– Under nose
– Chin (Midway between your bottom lip and bottom of your chin.)
– Collarbone
– Underarm
– Top of head
Tap each point seven times. As you move on a new point, recite a reminder phrase to maintain focus on your problem area. For example, say: The stress I feel from work.
After repeating the tapping sequence two or three times, check in with how you feel and rate your intensity level from 0-10. Keep tapping until your intensity level is 0.
We wouldn't be telling you about tapping unless we had compelling research to back up its effectiveness, so consider these recent studies… In one, 86% of veterans with PTSD no longer met the criteria for the disorder after only six sessions of tapping; in another, levels of anxiety, depression and cortisol dropped significantly in study participants who tapped!
Last Updated: July 5, 2021