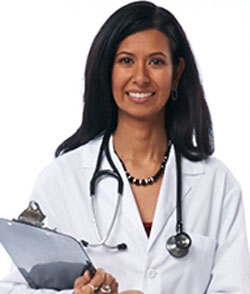 Sarika Arora, MD is a board-certified in Integrative Medicine and founder of Aum Healing Center functional medicine clinic in Boston, Massachusetts. She has also practiced acute care medicine as a hospitalist. She is an active member of the Institute of Functional Medicine, where she has completed the training for Applying Functional Medicine in Clinical Practice (AFMCP). As a medical doctor, Dr. Arora is dedicated to following a patient-centered approach, and designs customized lifestyle medicine programs focused on nutrition education and the use of exercise to improve vitality and quality of life.
Dr. Arora's belief that all her patients deserve to feel their best each and every day guides her as a practitioner. She is extremely passionate about evaluating and treating patients from a whole-person perspective, including investigating how patients' genes interact with both environment and lifestyle factors.
Education
Dr. Arora completed Internal Medicine residency from State University of New York – Buffalo.
Advanced IFM Training
Applying Functional Medicine in Clinical Practice
Cardiometabolic Advanced Practice Module
GI Advanced Practice Module
Hormone Advanced Practice Module
Immune Advanced Practice Module
Professional Associations
IFM, Board Certified with American Board of Integrative Medicine, Greater Boston Functional Medicine Group
Dr. Arora authors and reviews articles and additional content for Women's Health Network, with special expertise in nutrition, chronic fatigue, PMS, gastrointestinal and hormonal balance, and stress management.To get to know Dr. Arora better, see her answers to the questions we ask all our contributors.
Get to know Dr. Arora
1. Book or movie that changed your life?
Finding Joe is a captivating movie that highlights the idea that we are all heroes on our journeys. This film inspires us to look at the fears in our lives and confront them as we become the greatest version of ourselves.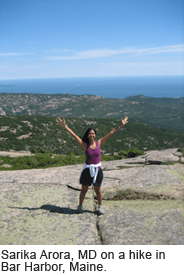 2. Favorite healthy snack?
There are several: guacamole; hot rice cereal with 1 scoop of protein powder, organic blueberries, and 1 teaspoon of sun butter; baked kale chips with coconut oil, turmeric, salt and garlic powder.
3. What do you do for exercise?
Strength training exercises. I started yoga during medical school and fully enjoy this mind-body exercise. Sometimes I will alternate this with interval training on the elliptical.
4. Guilty pleasure?
Organic dark chocolate!
5. Favorite hobbies and things to do when you have time off?
Traveling to warm places, playing tennis, and reading magazines on yoga and healthy living.
6. If you could go anywhere in the world, where would it be?
Kauai, Hawaii for the warmth, water activities, and healthy food.
7. What's most exciting to you about working with Women's Health Network?
Being part of a movement that promotes optimal health! I like the focus on many different areas: food, stress management, and hormone balancing. Women's Health Network has many excellent eGuides with helpful information that we can use daily. I also like the different health profiles that are offered on the site that can guide women.
8. How did you become interested in women's health?
After joining The Institute of Functional Medicine in 2010, I learned so much about using food as medicine, especially to balance hormones and help boost energy levels. I am here to share this knowledge with my patients. Women deserve to feel their best every day.